EER Monthly June 2013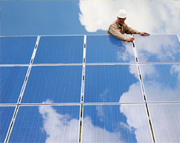 This EER month the emphasis lay upon developments at the east flank of the EU with articles about Cyprus, the South Stream and Druzba Pipelines and an interview with Dr. Kabuz, Director of the Hydrocarbons Division at the Mediterranean Energy Observatory, who talked about a gas bonanza in the East Mediterranean. There was no specific reason for this accent other than developments in this area surpassing those in the Northwest of Europe...
The Ebook EER Monthly is available for download (save to your local hard drive or open with pdf-reader). Please follow the link below.