Europe's deepwater operations face political storm
Energy Commissioner Günther Oettinger caused consternation within Europe's oil and gas industry recently by suggesting a freeze on the drilling of new deepwater wells. He also announced that he is thinking of proposing a 'European framework' to 'control' the work of the member states' national authorities that are currently in charge of regulating the offshore sector. The outcome of this political battle may have a significant impact on the future of Europe's offshore industry, as deepsea oil and gas production is becoming increasingly important to Europe's energy supply.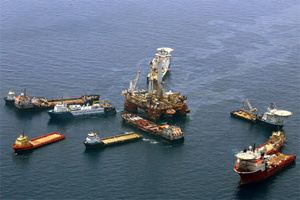 The oil spill at BP's Macondo oil field will have repercussions for deepwater operations everywhere in the world
The disastrous oil spill in the Gulf of Mexico has naturally focused attention on deepwater operations elsewhere in the world. It is well-known that as the era of 'easy oil' is over, oil companies need to rely increasingly on 'unconventional' supplies, including deepwater resources. Analysis by consultancy Douglas Westwood made before the Gulf of Mexico disaster, showed that global deepwater expenditure would hit $167 billion in the period 2010-2014, representing a 37% increase over the previous five years. This figure may go higher if tighter regulations are enforced and insurance premiums go up. According to the International Energy Agency extracting deepwater oil costs between $35 and $65 per barrel, but again this figure may need to be revised upwards.
There is no agreed industry definition of what constitutes deepwater. Sometimes a depth of 220-250m is taken as the cut-off line, given that this is the maximum depth in which divers can function. Anything below this requires submersibles, either with personnel or remotely operated. Sometimes 1000m is used to indicate deepsea because at this depth pressure becomes an important consideration during operations.
Frontier areas
In Europe, there are not yet many deepwater operations such as the Macondo well, although that looks set to change in the near future. Although Europe is a mature producing province, there are frontier areas ripe for deepwater exploration and production, such as the Norwegian Barents Sea, parts of the Norwegian Sea, the Irish Atlantic margin, and the area to the west of the Shetlands in the UK, which hold a nearly a fifth of the nation's oil and gas resources and could contribute up to 6% of its gas requirements by 2015. There are also promising deepsea areas in the European part of the Mediterranean. Compared with the Gulf of Mexico, Brazil, and the west coast of Africa, however, the potential for deepwater in Europe is limited as it does not share the same geology or water depths as these areas.
Average European oil production in 2009 was an estimated 4.66 million barrels per day, of which some 2 million were produced in the EU and 1.7 million in Norway. (EU consumption stood at over 14 million barrelds pre day.) Production in Europe is sourced primarily from shallow water ranging from 50-300 m in the UK and Norway and there is very little production in water over 500m. 'Deepwater production output in western Europe currently runs only in tens of thousands of barrels as opposed to millions of barrels per day from shallow water', notes Steve Robertson, UK Managing Director, of energy consultancy Douglas Westwood. In 2009, BP's Foinaven oil field to the west of Shetlands produced around 43,000 barrels per day in 450m of water. It was the first UK deepwater field to produce oil in 1997.
Based on statistics provided by member states, the European Commission has calculated that Europe has over 1200 offshore oil and gas installations, of which there are 350 active drilling rigs and production platforms in the North Sea and Mediterranean. Operations in depths exceeding 1000m account for only a very small percentage. In UK waters there are 22 production wells at these levels.
The contribution of deepsea oil and gas to Europe's energy supply looks set to grow, however. According to Douglas Westwood, an estimated $3.8 billion will be invested in deepwater activity over the 2010-2014 in western Europe. These investments include Eni's Aquila field development offshore Italy, due to come onstream in 2011, and several deepwater projects under development in the UK, including Total's Laggan/Tomore and Chevron's Lochnagar/Rosebank. These investment costs may have to be revised following the Gulf of Mexico oil catastrophe.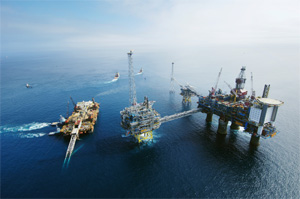 One of Europe's deepwater projects: the Ormen Lange gas field on the Norwegian continental shelf
The Commission notes that in offshore Europe 'less than ten' new drilling operations are currently being planned at depths exceeding 1000m. One of the biggest projects to have come onstream recently is the large Ormen Lange gas field, led by Statoil, in the Norwegian Sea. All the installations of this field lie in 800-1,100 m of water. Ormen Lange has recoverable gas reserves estimated at almost 400 billion m3 (enough to fully supply a country like Germany for over 6 years) and deliveries are likely to continue for 30-40 years.
According to North Sea consultancy HannonWestwood, there have been 21 successful development wells in UK deepwater in the last 5 years on BP's Foinavon and Schiehallion fields in the west of Shetlands. Separately there have been 9 deepwater exploration wells and 6 deepwater appraisal wells with multiple penetrations to examine the reservoirs in this area in about 305m of water. These wells are different from the Macondo well, however. 'Pretty much all deepwater drilling in the UK has been on prospects and discoveries that are normally pressured, unlike the Macondo well which was high pressure, therefore the circumstances are different and there is no indication that deepwater field developments, such as Laggan/Tormore and Rosebank, will be delayed,' says Andrew Vinall, technical director at Hannon Westwood.
In the latest UK licensing round, operators who submitted applications for acreage showed strong interest in deepwater areas such as to the west of Shetlands, which has the potential to produce 2.5 billion barrels of oil equivalent. This would almost double current UK proved oil reserves which stand at 3.1 billion barrels. Winners are expected to be unveiled by year end. Three companies plan to drill in the next few months in this area where appraised prospects lie in waters up to 1,000 m deep with proposals to drill in depths of approximately 1,500m. The UK Continental Shelf to the west of Scotland, which may be the subject of oil and gas exploration in the future, includes areas where waters are over 3,000 m.
Still, although proposed European deepwater projects such as Chevron's Rosebank-Lochnagar to the west of Shetlands, are important in their own right, they will not significantly affect Europe's production overall, says Robertson of Douglas Westwood. 'Deepwater won't reverse the decline of our mature fields in western Europe. Europe will still need to import its energy needs.'
Controllers
On 7 July, European Energy Commissioner Günther Oettinger suggested a voluntary temporary moratorium on drilling new deepwater wells until it has become clear what caused the BP oil spill. In remarks delivered to the European parliament he said: 'Given the current circumstances, any responsible government would at present practically freeze new permits for drilling with extreme parameters and conditions. This can de facto mean a moratorium on new drills until the causes of the accident are known and corrective measures are taken.'
At this moment, the Commission cannot impose any drilling ban as regulating offshore drilling is enforced by the regulators of the member states. Brussels only has authority in some environmental matters and health and safety issues. But the Commission is analysing existing legislation to see where additional provisions are needed and is considering whether to create a new European regulatory framework to strengthen national legislation and control national regulators.
'We see room for improvement in several areas, including potentially the consolidation of the territorial applicability of the existing environmental legislation and its extension to more fully cover the issues of biodiversity and secondary damage,' said Oettinger. 'I would not hesitate to propose a European framework for controlling the controllers', he added.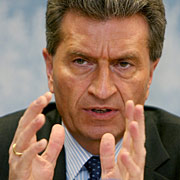 EU Energy Commissioner Günther oettinger
The Commission is also assessing possible international regulatory and safety initiatives and has started discussions with national authorities on this. Proposals are expected to be unveiled in September. Earlier Oettinger had asked major oil and gas companies to fill out a questionnaire regarding the safety measures they are undertaking.
No details have been provided on how long a 'voluntary' drilling moratorium could last or when it would start. An energy spokeswoman from the Commission told European Energy Review that Oettinger would discuss his ban proposal with all 27 energy ministers at a scheduled informal council of ministers meeting on September 6. 'An approval or disapproval for new oil drillings in the national waters falls under the responsibility of each single EU member state', said the spokeswoman.
Oettinger's speech happened to coincide with a meeting of the trade association International Oil & Gas Producers group (OGP) which gave him an update on what operators were doing to minimize operational risks in Europe. Oettinger's proposal for a voluntary freeze was rejected by OGP Executive Director Michael Engell-Jensen who said that 'current and planned drilling operations in Europe should continue, based as they are on the collective experience and knowledge gained from the safe drilling of thousands of wells the world over – many of them in frontier locations.'
Engell-Jensen added: 'In the upstream industry, we will do everything within our power to prevent the re-occurrence of such a tragedy on such a scale. We are equally confident that the EU and national governments will also respond quickly, and at appropriate levels, to the findings of the official enquiries. OGP members will fully co-operate with these bodies and other institutions.'
It's a 'nonsense' for Oettinger to call for a deepwater drilling ban as the volumes are marginal, says Robertson of Douglas-Westwood. 'The deepwater rigs are not in Europe, but in other areas such as the US, west Africa, and Brazil.'
His view is supported by Alastair Birnie, chief executive officer of Subsea UK, an industry body representing subsea companies in the UK North Sea. 'With the marked change in tack that has been seen in the last few days in the Gulf of Mexico, it would appear there is a growing, if tacit, acceptance that there was a gross over-reaction to the incident and that objectivity was not maintained on a purely professional basis. Interestingly those doing the stirring are now finding ways of diverting on to other subjects.'
Unjustifiable
The UK oil and gas industry was not amused by Oettinger's speech. Oil & Gas UK, the trade body representing companies in the North Sea, immediately held a meeting and asked for clarification. It called Oettinger's comments 'wholly unjustifiable'.
Oil & Gas UK chief executive Malcolm Webb expressed his disappointment with Oettinger's stance: 'In the UK, we have strong and competent regulators in the Department of Energy and the offshore safety division of the Health and Safety Executive, who preside over a robust regulatory regime borne out of the recommendations of the Cullen report. This safety regime has served us well for over 20 years of operations, during which time nearly 7,000 wells have been successfully drilled on the UK continental shelf.' The Cullen report refers to the investigation carried out by the UK authorities after the Piper Alpha accident in 1988 in which 167 people were killed.
Webb stressed that the North Sea industry was not complacent about safety, having formed an oil spill prevention and response advisory group which 'is already carrying out a thorough review of UK procedures and practices and will institute any changes necessary either as a result of that review or the findings of the investigations currently ongoing in the US.'
Oil & Gas UK fears that up to £6 billion in investment in new projects this year would be at risk from a ban. This, it says, would adversely affect European energy security and could even contribute to a double-dip recession. The association points out that the UK regime is far more advanced than that in the US.
Total E&P UK, a subsidiary of French oil major Total, which is the lead operator of the deepwater Laggan/Tomore gas fields that lie west of the Shetlands, is monitoring European developments closely. A spokesman of the company said that 'drilling on Laggan-Tormore is not planned until the third quarter of 2012, so there is still plenty of time to see how things evolve. However, what we propose to drill are gas wells in 600m water depth and, as things stand, we would certainly not anticipate such wells being affected.' Laggan/Tomore, which is scheduled to start production in 2014 under a near £2.5 billion investment plan, contains more than 1 trillion cubic feet of gas, plus some condensates - equating to about 230 million barrels of oil equivalent.
Like the UK industry, the British government appears to be satisfied with its regulatory regime, describing it as 'fit for purpose'. Chris Huhne, the new energy secretary, has doubled environmental rig inspections. 'We will not consent to the drilling of any well unless we are convinced that it is designed to the very highest standards, that the equipment used is fully tested and that the people working on the well are fully trained,' says a spokeswoman from the Department for Energy and Climate Change.
The Energy and Climate Change Committee, a UK parliamentary committee, has called for an enquiry in September looking at the impact on UK deepwater drilling following the Gulf of Mexico crisis. The Committee wants to assess safety and environmental regulations of oil and gas operations on the UK Continental Shelf and the potential positive and negative impacts of a moratorium on deepwater drilling.
Controversial
Although Norway is not a member of the European Union, it is the largest gas producer in Europe and is in regular dialogue with the Commission about energy cooperation. Norway has reacted to the Gulf of Mexico disaster with more concern than the UK. The Petroleum Safety Authority, which monitors health and safety in Norway, has not stopped ongoing or planned drilling operations. However, in July Norwegian energy minister, Terje Riis-Johansen, said that the government would not offer new areas for deepwater drilling until it has received information about the applicable lessons from the Deepwater Horizon disaster. A Norwegian inter-governmental group has been established to learn from the Gulf of Mexico accident.
Deepwater developments
Two major European deepwater projects to have been approved in the last year are Laggan/Tomore and Aquila. They both represent great strides in technological innovation.
In the fourth quarter of 2011, Eni will start oil production from Aquila, which is in the Adriatic Sea in 815m of water. It will use a $1.5 billion floating production storage and offloading (FPSO) vessel with a storage capacity of 700,000 barrels and a production capacity of 12,000 b/d of oil.
Laggan/Tomore in the UK represents a £2.5 billion gas development which will produce more than 28 billion m3 of gas from one of the most hostile environments in the UK. This would add 10% to the existing proved gas reserves of the UK. Peak production rates will be 14 million m3 per day. The gas will be transported via a subsea tie-back development to an onshore processing plant at Sullom Voe on Shetland, with onward export of the processed gas to Total's operated St Fergus gas terminal. In mid 2012 using a semi-submersible drill ship, eight wells are to be drilled, five on Laggan and three on Tomore.
An energy ministry spokeswoman told European Energy Review: 'In general, deepwater drilling will only take place on the Norwegian Continental Shelf subject to adherence to all applicable rules pertaining to safety and protection of the environment. Any EU legislation concerning a ban on deepwater drilling will have to be considered and formally included in the EEA Agreement [European Economic Area] before such an EU ban can be applied to Norway.'
The Norwegian government scaled back its block offerings in the 21st licensing round that was launched in July. Norway has invited applications by Nov. 3, 2010 for 94 blocks or parts of blocks in the Norwegian Sea and the Barents Sea. Following the BP oil spill, the ministry cut acreage from 100 to 94 blocks. Twelve of the blocks on offer are deepwater blocks that lie in more than 4,900 ft (1630m) of water. The Barents Sea, a frontier province, holds 51 of the available blocks. Among the blocks that were held back were four from the Nordland V area in the Norwegian Sea, which lies close to land, to prevent any accident 'given what happened in the Gulf of Mexico,' Riis-Johanson said. 'We wish to proceed with the work of assessing various spill scenarios and gathering facts. Inreased knowledge about the accident with the Deepwater Horizon will be part of the basis for this (licence award) decision,' he added. Even before the BP oil spill, new exploration areas, such as deepwater Norwegian Sea, had been controversial in Norway for environmental reasons.
The new policy might make it more difficult for Norway to fulfil its growth output expectations. Finds made after 2008 are expected to account for 42% of production from the Norwegian Continental Shelf in 2030. Norway's gas supplies account for 16% of European gas consumption and they will increase from 100 billion m3 today to 105-130 billion m3 within the next decade. By contrast oil and other liquids exports are expected to decline.
The OLF, Norway's association representing oil and gas operators, does not consider a ban on deepwater drilling in Norway necessary. A spokesman said that it had formed a Deepwater Horizon working group to share information, discuss safety, and drilling procedures. This month the OLF will come up with a report summarizing the differences between regulations in Norway and the Gulf of Mexico.
Gulf of Sirte
Meanwhile, the next battleground for deepsea oil and gas production looks to be the Mediterranean. The Italian government in July issued "restrictions" on offshore drilling off the Italian coast. Earlier this week, the Italian Minister of the Environment, Stefania Prestigiacomo, called for a moratorium on all deep-water drilling in the Mediterranean Sea. The reason: within weeks BP is set to start its next deepwater drilling campaign in Libya's Gulf of Sirte waters in the Mediterranean. BP will drill five wells, which are expected to be 200 m deeper than the Macondo one. BP's rigs will be located just 500 kilometres from Italian and Maltese territory. Prestigiacomo said Oettinger's proposal for a moratorium was the 'right approach', until the Mediterranean's 21 littoral states find a 'common voice' to deal with any major oil spills.
Oil spill response groups
Industry representatives across Europe have formed oil spill response groups to collate information about and coordinate their responses to a similar accident.
At the European level, the International Association of Oil and Gas Producers has established the Global Industry Response group to identify work being done by its members and national regulators.
It will focus on the results of the Gulf of Mexico investigations as well as subsea well control, oil containment at the well, and cleanup techniques for major oil spills. It will review offshore operating procedures and equipment, audit inspections, oil spill liabilities and financial provisions, and possible changes to regulations and legislation.
In the UK, Oil & Gas UK set up the Oil Spill Prevention and Response Advisory Group (OSPRAG), which comprises operators, regulatory authorities, government, and trade unions.
The Group has four specialist review groups which focus on:
•technical issues including first response for protection of personnel;
•oil spill response capability and remediation, including national emergency response measures;
•indemnity and insurance requirements;
•pan-North Sea regulations and response mechanisms
The North Sea Offshore Authorities Forum (NSOAF), which represents the eight safety regulators from countries around the North Sea, is carrying out a joint drilling audit to share information about challenges and initiating possible changes in regulations.