For Italy it's TAP or being left out in the cold
The shape of the Southern Gas Corridor is gradually becoming clear, as far as the delivery of gas from Azerbaijan to Europe is concerned. The first leg through Turkey will be controlled by Azerbaijan and Turkey. From the Turkish border there will be a northern route - either BP's South East European Pipeline project or a Nabucco "light" version - and/or a southern route to Italy. The Shah Deniz II consortium, the producers of the Azeri gas, have indicated that for the southern route they favour the Trans Adriatic Pipeline (TAP) over the Italian-backed ITGI project. However, TAP has one weakness: it does not (yet) have an Italian partner. This is where the Italian government comes in: in the interest of Italian and European security of supply, Rome should make a clear commitment to back TAP.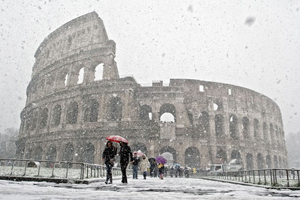 A cold winter in Rome (c) First Enercast Financial
Remember last winter? The combination of severe weather and disruption to gas supplies was called by some the 'perfect storm'. For an anxious few days, as energy use surged to record levels, questions were being asked about Italy's ability to meet that demand and keep its citizens safe, warm and dry.

As summer approaches, it would be tempting to consign these memories to the dustbin. But we would do so at our peril. For the lessons from those chilling weeks in February must be learned if we are not to face similar or worse dangers in the future.

The good news is that a solution is in Italy's hands, should its government choose to support it. For decisions will be made in the coming months and years that could significantly reduce its exposure to such risk, while also helping secure the nation's economic future.

But first, let's remind ourselves of the chain of events that took place just a few short months ago. In February, much of Europe was in the grip of snow and ice. In Italy, up to two metres of snow fell. Temperatures plummeted to −21°C in the North and −10°C in the South. Public services were brought to a standstill with major roads blocked and passengers stranded on trains for an entire weekend. Canals in Venice froze over, Rome experienced almost unprecedented snowfall and in Puglia the army was brought in to help hundreds of people trapped by the snow. Tragically, dozens of people across Italy lost their lives, as did many others throughout Europe.
Supertankers
During those critical days, gas supplies to Italy, which relies on imports for 98% of its energy needs, were at breaking point. The atrocious conditions forced Russia to reduce its gas exports by 20%. Russian giant Gazprom, which supplies about a quarter of Europe's natural gas, said it was facing greater domestic demand because of the extreme cold, thus limiting supplies to its foreign customers.

For several days, heavy seas with waves up to five metres high prevented supertankers from the Middle East and North Africa offloading their cargoes of Liquefied Natural Gas (LNG) at the terminal of Rovigo in the northeast of Italy, which supplies 10% of Italy's annual gas consumption. This situation forced the regasification plant to run at lower capacity, putting yet further pressure on Italy's energy supply.

The critical moment came on Monday 6th February. On that day the bitter weather led to record peak demand for gas in Italy of a staggering 460.9 million standard cubic metres, mostly driven by domestic demand. Italy's energy grid was at full stretch and straining under the pressure.

In response to these unprecedented conditions, the Italian government declared a state of emergency. This allowed the authorities to take extra measures to address the situation. Efforts were made to increase gas supplies from Norway and Algeria. Some power stations were allowed to switch to oil while industrial customers in 'non-critical' industries had their power supplies cut so homes could stay warm.

Emma Marcegaglia of Italy's leading business association Confindustria expressed concern at the cuts to energy supplies faced by businesses. Eni, Italy's largest energy company, spoke rather stoically of a "difficult moment".
Damn close run thing
As a famous English general said of his victory over Napoleon, it was a "damn close run thing". In the
As a famous English general said of his victory over Napoleon, it was a "damn close run thing"
crisis management business, such situations are referred to as 'low probability, high impact events'. But difficult moments need to be prepared for. And it is Italy's good fortune that the opportunity to significantly reduce the nation's exposure to a similar combination of events lies close at hand.
There has been lengthy discussion and speculation in recent years about the Southern Gas Corridor. Originally proposed by the United States and latterly supported by the European Union, the concept in a nutshell is to marry Europe's need for fresh energy sources with the growth demands of the emerging new economies of the former Soviet Union in Central Asia and the Caucasus, which have plentiful supplies of natural gas. This goal would be achieved by opening up a southern pipeline corridor that would allow the gas to get to market while at the same time supporting Europe's aim of lessening its dependence on Russia as the predominant source of its energy needs. The Russian-Ukranian gas disputes of 2005-2006 and 2008-2009 gave fresh impetus to this initiative. (Which does not imply, by the way, that Russia was to blame: Russia has been a reliable energy partner for Europe, especially for Germany, for many decades and will remain a vital supplier.)
Given the industry, geography and politics involved, however, matters were never going to be quite that straightforward. In what has become a complex game of three-dimensional chess, there have been seemingly endless discussions about various pipeline concepts, their geopolitical implications and economic feasibility. This is understandable, as the different projects have numerous stakeholders, including transit governments, gas buyers, transportation companies and international financial institutions that are involved in project financing.
But we have finally entered
the critical phase in the decision-making process
. The discussions will now have to focus sharply on reality, not on pipedreams. This is because the consortium operating the giant Shah Deniz phase-2 gas field in Azerbaijan, which is expected to go on stream by 2018, will shortly
We have entered the critical phase in the decision-making process. The discussions will now have to focus sharply on reality, not on pipedreams
announce how it will arrange for the transport and sale of 10 billion cubic metres (bcm) of gas annually – the first and, for the time being, only major non-Russian gas supply that will traverse the Southern Corridor. (To compare: in 2010 the EU imported 110 bcm from Russia, about 36% of its total gas imports.) Italy has a direct interest in one of the projects that is being seen increasingly as favourite in the race to win one of the ultimate prizes.
Stability
On the 10th of February this year, during the cold wave, the Shah Deniz Consortium selected the Trans Adriatic Pipeline (TAP) as its chosen transportation solution for the southern route option to Europe. TAP will transport gas via Greece and Albania, across the Adriatic Sea to southern Italy and further to Western Europe.

This southern route decision is final and irreversible. The Shah Deniz Consortium has explicitly excluded the rival Interconnector Turkey-Greece-Italy (ITGI) project from the race. ITGI was really two projects in one: a Greek onshore section and an offshore leg linking the Greek Ionian coast to southern Italy. Many industry observers questioned the lack of a credible solution to explain how more than 550 kilometres of new-build onshore pipeline would be financed and made available on time, especially given that the Greek state owned natural gas pipeline operator DESFA would construct the pipeline. There were also technical questions about the ability to scale up the offshore section to take more gas and the capabilities of its shareholders (Greek gas supplier DEPA and Edison) to deliver the infrastructure or indeed buy the gas.

The approach of TAP is to construct and finance a new-build pipeline across the territory of Greece from Komotini (near the Turkish-Greek border) to the Albanian border, across Albania and the Adriatic Sea to Italy, a distance of some 800 kilometres. In addition, the TAP shareholders have confirmed their willingness to enter into a joint venture with DESFA for the Greece onshore section. Albania, which has gained a lot of stability since it became a NATO member in 2009, has signalled time and again that it will do its utmost to cooperate with the TAP consortium when it comes to planning and constructing the pipeline.

All this can be achieved because TAP's main shareholders Eon and Statoil represent some of Europe's most experienced and capable onshore and offshore pipeline construction management and pipeline operators. With these important players and the third large shareholder, Switzerland's energy utility EGL Group, TAP is also perceived to have credible financial support behind it.
Grandiose plans
The Shah Deniz Consortium is also considering a preferred northern route option to Central Europe. The two candidates for this route are the previously favoured but now deeply troubled Nabucco project and, a late-comer to the game, the South East Europe Pipeline (SEEP). This choice is expected to be made by the end of June 2012. The final decision between either a southern route (TAP) or a northern route, or indeed a combination of the two, then needs to be taken by June 2013.

Nabucco's fortunes have waxed and waned as dramatically as the plot of the Verdi opera after which it is named. But ironically, despite its eccentric connection to Italy, this country has never been part of its grandiose plans. An entire article could be written about Nabucco alone (and many have been), but suffice it to say that - with controversy over Hungary's continued participation, doubts about the commitment of German utility RWE, the driving force behind the Nabucco consortium, and the billion-Euro question of where all the gas will come from to fill the pipeline - its chances are virtually nil.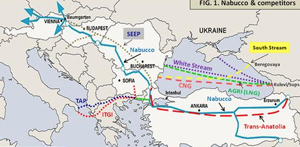 The Trans-Anatolian Natural Gas Pipeline (click to enlarge) (c) Natural Gas Europe
Add to that an increasing unwillingness by EU member states to unnecessarily antagonise the Russians, who see Nabucco as a direct threat to their long-standing dominance as a gas supplier to Europe and have initiated their own pipeline projects as a direct response, and the 'Nabucco neutral' position of the European Commission, once a vocal supporter, and the outlook looks very bleak for the former front-runner. Indeed, during BP's Annual Forum in Berlin on May 24, BP Executive Director Iain Conn stated unambiguously that the original Nabucco concept will not be taken into consideration by the Shah Deniz consortium, although there is still a chance for a smaller, scaled down "Nabucco-West" pipeline.
Michael Köhler, EU Energy Commissioner Günther Oettinger's eloquent chief of staff, made it clear at the same forum that the EU's aim is to add to diversification of supply, competition and transparency – but never to support any particular pipeline-project. "The final decision has to be a commercial one", Köhler stated.

But there is another serious bidder. The SEEP (South East European Pipeline) project, proposed by BP in September 2011, is the newest addition to the group of competing projects in the Southern Gas Corridor. The basic rationale of SEEP seems clear: it looks like a restructured and reduced version of the Nabucco project. But SEEP dramatically avoids the investment costs that Nabucco would incur through the construction of new pipelines by using some of the existing infrastructure in Southeastern Europe.

Similar to what the TAP project offers regarding the possibility of transferring gas to other Balkan states via Albania, SEEP could also deliver gas to additional countries along the route including Bulgaria, Romania, Hungary and potentially Croatia. Another advantage that SEEP shares with TAP is that both pipeline capacities can be increased in the future.

However, unlike TAP, SEEP is for the time being more of a concept than a fully developed project proposal. Many of the details are still unclear, a detailed feasibility study has of yet not been carried out and there is no concrete cost estimate in the public domain. Nevertheless, SEEP must be a strong contender to win the northern route.
Landfall in Italy
With TAP and SEEP, Europe would have one route that would link Shah Deniz with Southern Europe and another that would ship the gas to Central and Eastern Europe. Both are small enough to minimise risks and flexible enough to be enlarged if demand in Europe grows and additional supply from Azerbaijan or other gas resources from Iraq, Iran, Turkmenistan or even Egypt would be ready to be delivered.

What do these developments mean for Italy? In April 2012 Italian Minister of Economic Development, CorradoPassera, presenting the national energy plan to the Italian Parliament, emphasized: "What is really important is to realize the Southern corridor and ensure that Italy plays an important role in it. Then the actors of the market will make the choice".

Some days later, Fulvio Conti, CEO of Enel, Italy's largest utility company, told Reuters that his company is interested in joining projects that bring gas to the country, including TAP.

But Italy is in a difficult position. Italy has traditionally favoured ITGI, in which Italian company Edison is a shareholder, over TAP. In addition, Italy's major oil company ENI is involved in the Russian-backed South Stream project, a direct competitor to both TAP and Nabucco. In April, ENI also signed a deal with Russian state-owned oil company Rosneft to develop offshore oil sites in the Arctic (the Barents Sea) and in the Black Sea.

Nevertheless Italy should face the fact that ITGI is simply not an option anymore. Speaking on behalf of the Shah Deniz Consortium at the earlier-mentioned forum in Berlin, BP's Iain Conn made it crystal clear: The decision for TAP is irreversible, he said. Translated for Italy that means: TAP or nothing.
Right reasons
For Italy - and indeed for Europe - the outcome is crucial. Italy, which is highly dependent on imports, is currently not a very liquid market. As such any additional supplies coming to the country, in particular
Without the active support and commitment of the Italian government, the southern, Italian solution will be lost
from a new, non-Russian source, will support increased competition in terms of prices and reduce the cost of energy to Italian consumers. It will also boost Italy's ability to act as an effective energy hub to supply other countries in Western and Central Europe by reversing the flow of gas when required. Thus, for the EU's internal energy market policy the success or failure of TAP is also crucial.
This is no time for complacency or delay. There is still a competition to ship much-needed Shah Deniz gas to European markets and without the active support and commitment of the Italian government and its counterparts in Greece and Albania, none of this will happen and the southern, Italian solution will be lost.
The government of Italy needs to express its commitment to the project and make a clear indication of how it intends to support the Shah Deniz Consortium's recent decision in favour of TAP. In particular, various permits necessary for the project to continue need to be progressed and an inter-ministerial agreement between the transit countries signed.
The backers of TAP have repeatedly expressed their openness to welcoming an Italian partner to the project. Rome should do its part to stimulate this.
Let's hope we will be remembering last winter for the right reasons: as the time when Italy began to wake up to its energy predicament and embraced a new energy future.
About the author
Friedbert Pflüger is Professor and Director of the European Centre for Energy and Resource Security (EUCERS) at King's College London. He served for twenty years as a German Member of Parliament and was State Secretary in the first Merkel government. He is an advisor to the Albanian government on its gas policy.
Related articles on European Energy Review in (reverse) order of appearance: