Greenland's aspirations: a challenge to Denmark
In this second part of our Greenland coverage Reiner Gatermann takes a closer look at Greenland's aspirations to exploit the island's mineral and petroleum wealth. Should the Greenlanders succeed in getting the hoped-for results, they would still have to take high hurdles to realize constitutional and economic independence. This is not impossible, but it will be difficult. Some Danes – and a few Greenlanders - even call it unrealistic. One important hurdle was taken last week: with a majority of one vote the Greenlandic Parliament Inatsisartut voted for the abolition of the zero-tolerance rule for mining and export of uranium.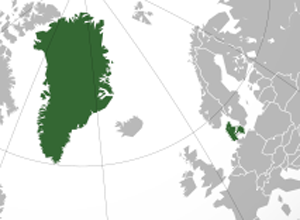 Greenland and Denmark (c) Wikipedia
Most of the 57,000 Greenlanders with Aleqa Hammond at the helm are counting on the revenues from minerals and petroleum to finance their future independence. Looking at Norway, Greenland has already established a state-owned mineral and petroleum company, Nunaoil, which is automatically granted a share in all licences. In the offshore sector it varies between 8 and 12.5 percent. As in the Norwegian system, Greenland has established a fund to collect and administrate the state's profits from minerals and petroleum. But up to know it has not collected a single dollar.
Aleqa Hammond, who was born in 1965, calls independence a vision. Hammond herself is not sure whether she will see the day of a totally autonomous Greenland. There are two aspects: the constitutional one, as Greenland would have to leave the Kingdom of Denmark (Rigsfœllesskab) or find a different place within it. This is for the Greenlanders to decide. Denmark is not expected to reject the islanders' vote. Another aspect is even more important. Minik Rosing, a Greenlander himself, Cox Visiting Professor of Stanford University and Chair of the newly by the Universities of Copenhagen and Greenland appointed Group of Experts, tells EER: "Independence based on minerals is the wrong way to go." And Lars Bangert Struwe, Research Fellow at the University of Copenhagen and a Greenland expert, points to another aspect: "Independence tomorrow, including security and defence, is economically impossible." The Greenlanders are divided on this issue. Perhaps even the Prime Minister is aware of the difficulties her vision presents. Tove Søvndahl Gant, Greenland's Representative in Copenhagen, tries to explain: "Of course we are looking at different solutions, for example at the United States of America or at the relationship between the Cook Islands and New Zealand."
Denmark partly in driver's seat
Ever since presenting the coalition programme of the social democratic party Siumut, the social liberal party Atassut that promotes good relations with Denmark, and the newly-founded Partii Inuit with strong nationalist and socialist tendencies, two issues have dominated the debate: the abolition of the zero-tolerance ban on mining and export of uranium, and what role China will play in Greenland's future. In the preliminary talks within in the government for last week's vote in parliament, the Prime Minister faced a sudden problem. Partii Inuit, which only has one seat, declared its resistance to the abolition. Aleqa Hammond had no alternative but to ask Partii Inuti to leave the coalition.
Doris Jakobsen (Siumut), one of two Greenland members of the Danish Parliament (Folketing), tells EER:
Two issues have dominated the debate: the abolition of the zero-tolerance ban on mining and export of uranium, and what role China will play in Greenland's future
"I do not see extraction and export of uranium as a problem as long as it is done safely and the materials are solely used for civilian purposes. When those conditions are fulfilled I see no difference between radioactive and other minerals. That is why I support lifting the zero-tolerance ban." Both Greenland and Copenhagen recommend taking a closer look at Canada and Australia as uranium-exporting countries. However, Greenland needs the support of the Danish government: only Copenhagen can apply for a change in the international IAEA-convention that was signed and ratified by Denmark in 1988. The convention prohibits the production and export of uranium.
After last week's 15 to 14 vote in favour of abolition, the Danish daily newspaper "Berlingske Tidende" writes: "If one looks at the recent troubles in Greenland's political life, one can have doubts, whether this decision is final." The opposition had asked for a postponement of the vote until a referendum has taken place. Whilst Aleqa Hammond repeated her view that Greenland's minerals, inclusive uranium, are an issue exclusively for the islanders to decide, in Copenhagen the Danish People's Party (DF) asked Greenland's Prime Minister to admit as soon as possible that the uranium issue is a matter for the Danish government. DF is the only party which voted against the self-government act. The party's speaker on Greenland affairs, Søren Espersen, warned that this issue could take up to twelve years to be decided in court. Recently, a Danish-Greenlandic working group in the Foreign Ministry stipulated that uranium is a radio-active mineral and therefore a foreign affairs and security issue. Nuuk responded: "Denmark has no right to decide on Greenland's minerals."
China's interest
Perhaps more complex is the role that Greenland and Denmark are prepared to give China in the island's business. The London Mining Greenland A/S is licence holder for Isua, what is supposed to become Greenland's largest mine by far. It has offered a Chinese bank a share in this adventure. To exploit this iron deposit, about 2,000 workers would be needed throughout the construction phase. China would supply them in addition to a major financial contribution. This immediately started a hefty debate. The main point: the import of cheap labour. In December 2012, the Greenland Parliament (Inatsisartut) passed a bill promoting foreign investments in Greenland while preventing and limiting negative consequences for the national economy and the competitiveness of the business sector as a result of an influx of foreign enterprises into Greenland.
"For the USA and Europe, REE are not a commercial product but a strategic mineral"
The so-called Large Scale Projects Bill will only apply during the construction of a large-scale project in the mineral and hydropower industry, which must have a capital expenditure of more than DKK 5 billion (670 million euros) while the technical and financial demands must exceed what is available to the company in Greenland. Wage and employment terms must be "acceptable and objectively fair and reasonable". In its coalition agreement the new Government announced the re-evaluation of the Large Scale Law. Whatever the outcome, for different reasons, China cannot and should not be prevented from doing business in Greenland. Up to now the Inatsisartut promoted Chinese investments and attended fairs in China. Minik Rosing supports the islanders and says: "That could be a good thing", depending on how things are done. He points at Canada, which has been successful in attracting and controlling Chinese investments. And he does not fear, as some politicians in Copenhagen and Nuuk do, a Chinese monopoly on Greenland's minerals, because, according to Per Kalvig, on REE, China already has the monopoly on technology.
At the edge of the debate there are sometimes voices who point at the strategic aspects of this issue. Lars Bangert Struwe: "For the USA and Europe, REE are not a commercial product but a strategic mineral." Therefore, he is surprised by the disinterest shown by the Americans, who during the Cold War had a strong military base for B-52 bombers and missiles in Thule. Even today, the US keep a military presence. Bangert Struw registers a much stronger interest from Europe.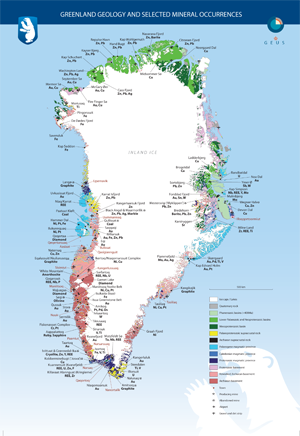 Greenland Geology and selected mineral occurences

download pdf
With the new government Minik Rosing sees a change of rhetoric, a stronger will for independence and less willingness to cooperate with Denmark. According to Lars Bangert Struwe, Greenland, Denmark and the Kingdom of Denmark have "much to win and all to lose" as a result of this mineral adventure. If there is no common agreement, "in a few years' time we will end up in a situation where the formal Greenland dependence on Denmark will be replaced by an informal economic dependence on one international company." In the future there may be tensions between Nuuk and Copenhagen, and perhaps the Danes are getting more impatient with Greenland's demands and expectations. According to Lars Bangert Struwe, "today quite a few Danish politicians would like to rewrite the Self-Government Act, because the Greenlanders got too much too cheap." However, in general, no one is expecting a major upheaval between Greenland and Denmark. Even though Nauja Bianco, Greenlander and senior advisor Northern Europe at the Danish Ministry of Foreign Affairs, sees "a danger for the Kingdom of Denmark" in the zero-tolerance issue. In the end, however, she describes the Danish-Greenlandic relationship "familylike and pragmatic", and no-one is looking for a break-up.