How Shell is trying to help develop the European gas storage market (after selling its storage assets)
Shell was one of the first companies in the European gas market to toe the EU's unbundling line. Early on the company made a radical decision to divest its gas pipeline and storage assets and focus exclusively on gas production and trading. Now, it has started offering its services to independent storage operators to help them commercialise their storage assets. Is Shell moving back into the gas infrastructure business? No, says Thorsten Dinkela, Head Of Business Development Northern Europe at Shell Energy Europe in an interview with EER. "What we are doing is supporting the market. That is in our own interest as well."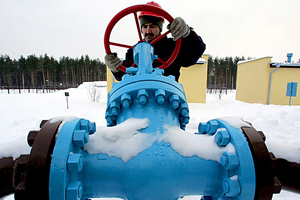 A Russian specialist checking valves at Gazprom's gas storage facility (c) Reuters / Vostock-Photo
At a recent energy conference in Amsterdam, Shell executive Thorsten Dinkela gave a presentation for gas storage operators in which he showed how Shell can help independent gas storage companies make the most of their assets. The products Shell is offering to this market are fairly complicated. For example, some storage operators have to reserve some 10 to 20% of their capacity as backup to make sure that they are able to meet demand at crucial moments, e.g. at the end of the winter. Shell offers the operators to take over this backup capacity - in effect, to guarantee the risk for the operator. Thus, the operator gets paid for gas it would otherwise have had to keep in reserve, while Shell is able to acquire an additional source of flexibility at, presumably, a relatively favourable price.

"We can do this because with our other upstream activities in Europe – and the interconnectivity of our European operations – we are able to manage this risk", explains Dinkela. "We know it usually does not get cold everywhere at the same time. And as a pan-European player we can draw on our resources from across Europe to supply gas when needed. If we are short of capacity in Germany, we can compensate in the UK, for example." In effect, says Dinkela, the 20% of gas that was lost before is now utilized, to the advantage of both the storage operator and Shell – and in fact of the entire market.

Another example of a product that Shell is offering is to help storage operators offer flexibility in various countries. "You can't move storage physically, but you can move it virtually", Dinkela explains. "Say you have a German storage operator who does not have a customer for its flexibility in Germany, but they do have one in the UK. Shell can then execute a deal for them by selling the flexibility in the UK and buying it in Germany from the storage operator."
Tradable product
Storage operators cannot offer such services on their own, says Dinkela, because they don't have production and trading facilitie
With the services it is now offering to storage operators, it seems as if Shell is moving back into the infrastructure market
s. Under EU legislation, they are only allowed to be active in storage, not in trade nor even in transport. What Shell does, then, says Dinkela, is "to help storage operators transform their physical product into a tradable product".
Why would storage operators be interested in these services? "Well", says Dinkela, "despite the fact that they are heavily regulated, they still have to compete in the market. In former days they had a monopoly. They could always recover their costs. In the competitive, pan-European gas market of today, they have to look for ways to make money. So we are offering them options to do this."
In a sense, then, the storage operators have to operate with their hands tied. Dinkela admits that the EU regulation is very strict . "Regulation may not be perfect", he says, "but this is the reality at the moment. With our products we try to help storage operators overcome the limitations under which they are working."
Irony
The situation is not without irony. Shell had been active in gas storage and transport since the European gas market got started back in the 1960s, but it was one of the first companies to decide to shed its infrastructure assets when it became clear that the EU authorities want to end vertical integration in the energy market.

The EU's so-called Third Package, adopted at the end of 2007, demands strict separation between "unregulated" activities (production and trade) and "regulated" activities (transport, storage, LNG terminal operators). Although many utility companies in Europe resisted these 'unbundling' requirements, tooth and nail, Shell decided early on to adjust itself to the new reality, mostly because it did not think it would be able to make the returns its shareholders like to see in the regulated infrastructure market.

Thus, in 2005, Shell sold its stake in the infrastructure part of Dutch gas company Gasunie to the Dutch State. In 2007 it sold its German gas pipelines, which were part of BEB, a 50-50 joint-venture with ExxonMobil, to Gasunie. In 2009, Shell integrated its gas, power and CO2 marketing and trading activities into a single company, Shell Energy Europe, with headquarters in London. Subsequently they sold BEB's gas storage assets to Storengy, a subsidiary of GdF Suez.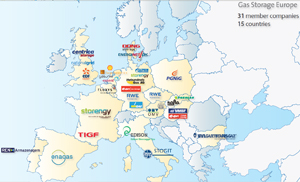 The members of Gas Storage Europe (click to open pdf)
Yet, with the services it is now offering to storage operators, it seems as if Shell is moving back into the infrastructure market. However, Dinkela, who started his career with Shell in Germany, does not look at it this way. "Our activities are still strictly unbundled", he says. "These are arm's length deals that we offer to all storage operators. They sometimes say to us that they are not allowed to discriminate: they have to offer the same services to everyone. We say, yes, that's fine, please do so."
Shell is in close contact with the regulators about this, Dinkela says. "They appreciate what we do. They see that we are helping the market develop."
Underinvestment
Indeed, according to Dinkela, this is one of the main objectives of the products and partnerships Shell is offering to the storage operators: to help the market develop. "Our major message is that liberalization is a positive development. We are seeing more competition, more choice for customers, efficiency gains. Storage prices have decreased dramatically. So we are moving in the right direction. But right now not all possibilities are being utilized yet. We want to make operators see the opportunities that they have and make investors see the value of gas storage."

He adds that "this is not charity on our part of course. It will lead to more trading opportunities for us as well. Right now I cannot execute a lot of deals because I don't have a fully tradable transport and storage market. That's what we are trying to change."

Dinkela says that a failure to develop the market might even lead to underinvestment in the future. "Formerly markets were separated. Now we see that markets like Germany, the Netherlands and the UK are becoming integrated. That has led to synergies which in turn have led to oversupply and lower prices. That's basically good news of course, but this could lead to underinvestment in the future, as current prices do not support new investments in storage. Since storage projects have a long lead time, about 10 years or so, we could enter into a negative cycle later. That's why it's important that storage operators and investors see the potential value of gas storage."

Shell has been talking to storage operators about its new services for about two years now. "As this is a relatively new proposition, the responses we got varied - essentially from zero acceptance to wide open doors", says Dinkela. "We have closed a number of deals now, e.g. in the UK, Denmark, Germany and Austria. We know now how the market works. That's why we felt could go public with this."

And are Shell's competitors offering similar services? "I don't know", says Dinkela. "I would like to hear about it if they are. You tell me!"