Navigating between Nabucco and South Stream
Italian energy giant ENI has come up with a proposal to transport gas in the form of CNG (compressed natural gas) by ships across the Caspian Sea from Turkmenistan to Azerbaijan. This looks like a clever move to facilitate both the EU-backed pipeline and its Russian-backed competitor South Stream, in which ENI has a stake.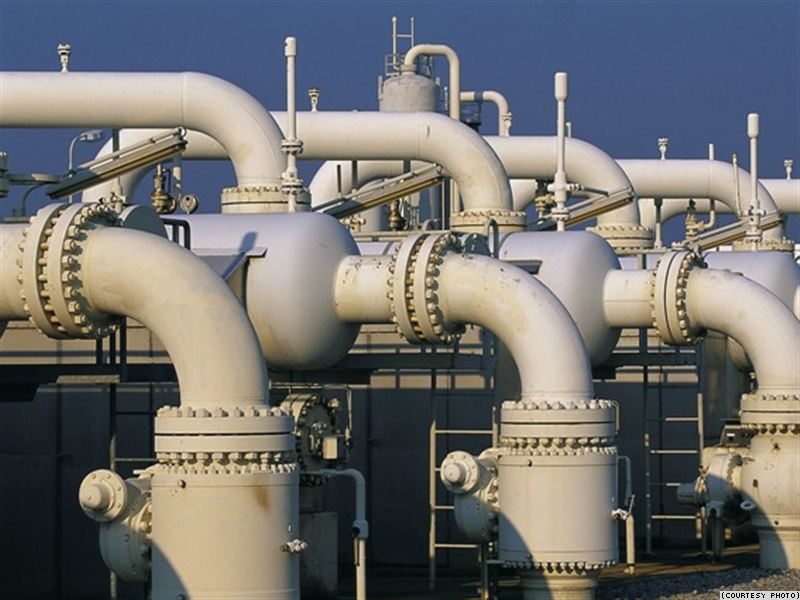 Baumgarten gas hub
ENI, one of the largest companies in Italy, has successfully operated many hydrocarbon projects in post-Soviet countries. Among other things, ENI is participating in the development of the giant Karachaganak gas field in Kazakhstan and in the even bigger Kashagan oil field. Last year, the company signed a memorandum of understanding with the Kazakh national oil companyy KazMunaiGas providing for new joint exploration activities in the Caspian Sea. In 2008 ENI acquired Burren Energy, which operates fields in Turkmenistan. The Italian company has also achieved success with the Blue Stream pipeline, a joint-venture with Gazprom which takes gas across the Black Sea from Russia to Turkey.
For this reason, ENI has a strong interest in developing transport routes of gas (and oil) from the Caspian region to Europe. One way of doing is this is through the proposed South Stream pipeline, which aims to transport gas from Russia (including gas from the Caspian region flowing through Russia) across the Black Sea to Eastern Europe and on to the markets of Central and Western Europe. According to many critics, this joint-venture with Gazprom, which since June of this year also includes French energy company EDF, is risky and expensive. The pipeline, first announced in 2007, is widely regarded as the Russian answer to the EU-backed Nabucco pipeline, for which preparations started in 2002 and which of course bypasses Russia. It is sometimes said to have been dictated by the political friendship between Vladimir Putin and Silvio Berlusconi and is now considered to be somewhat of a gamble for ENI.
However, being an experienced player, ENI is trying to find some sort of compromise between the two projects. The company has applied to the gas sellers Azerbaijan and Turkmenistan with plans that could benefit both pipelines. It has also proposed to partially merge Nabucco and South Stream.
Cheaper
Nabucco and South Stream are in many ways similar projects, with two big differences: budget and political back-up. They are both large projects: South Stream is to have an annual capacity of 61 bcm (billion cubic metres). It is to run from Russia through the Black Sea to Bulgaria, from which there will be a southwestern route to Greece and Italy and a northwestern route through Serbia and Hungary to Austria. It is expected to cost €19-24 billion, including €8.6 billion for the offshore section.
The planned capacity of Nabucco, a joint-venture of RWE (Germany), OMV (Austria), Botas (Turkey), BEH (Bulgaria) and MOL (Hungaria) is 30 bcm. It is to run for 3,300 km from Erzurum in Turkey via Bulgaria, Romania and Hungary to Austria and will cost €7.9 billion. The pipeline will be connected to the South Caucasus pipeline, a joint-venture of BP, Statoil, Socar (Azerbaijan), Lukoil, Total, TPAO (Turkey) and Naftiran (Iran) that runs from Baku (Azerbaijan) to Erzurum.
Both pipelines are expected to be mainly supplied from the major gas fields of Azerbaijan (Shah Deniz) and Turkmenistan (South Yoloten). South Stream will be supplied with "Russian" gas of course, but that gas is also expected to come at least in part from Azerbaijan and Turkmenistan. Both consortia have taken major steps already to secure volumes and have announced various agreements with transit countries.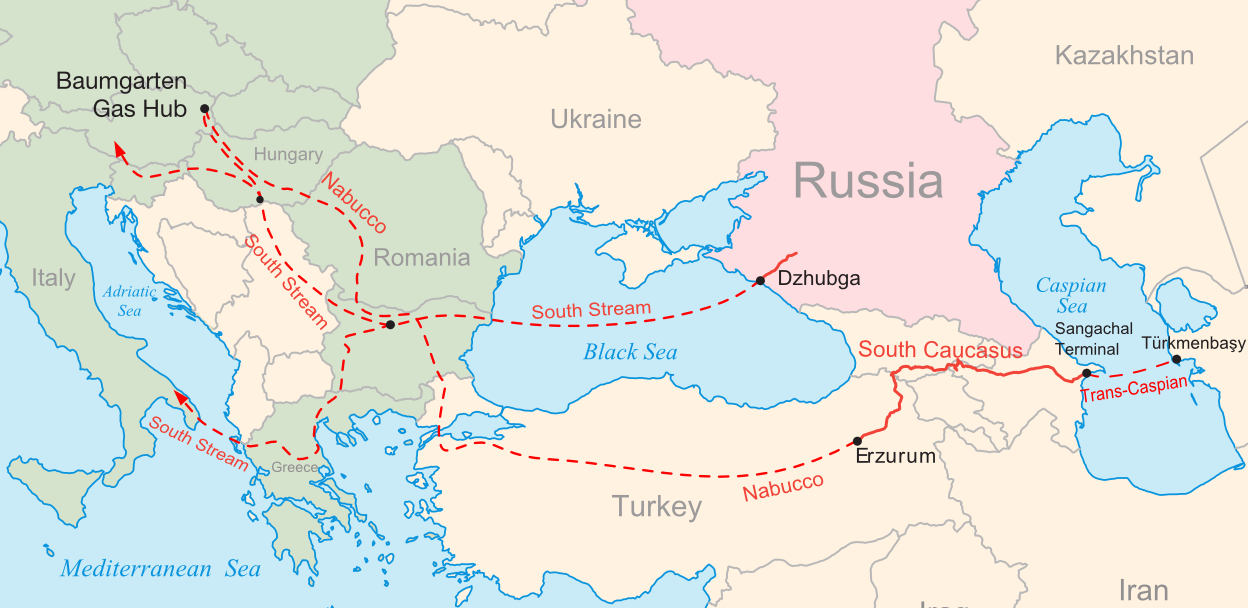 Nabucco has the main advantage that it is cheaper than South Stream. It is also recognised by the EU and the US as a priority project. For Nabucco the bottleneck is that, although transport from Shah Deniz to Europe will cost €77 per 1,000 m3 as against €106 for South Stream, volumes from Turkmenistan are needed to make the pipeline profitable. These will have to be transported through the Caspian Sea if they are to avoid Russia (and Iran). Russia for its part has already directly booked 7 bcm of gas from Shah Deniz and has signed an agreement with Turkmenistan to bring forward the construction of a new gas pipeline along the Caspian coast from Turkmenistan to Russia.
Fresh approach
So, what the European project needs above all is for a Trans-Caspian pipeline to be built from Turkmenistan to Azerbaijan. This is problematic, however, because of unresolved disputes over sea borders and ecological regulations. Russia and Iran, which both border the Caspian Sea, do not favour such a pipeline. But South Stream has difficulties of its own. It is doubtful whether the Russians have the money to start with the project, which requires $5 billion initial investment for pipelaying and pump stations.
In April of this year, ENI's chief executive, Paolo Scaroni, at a conference in Houston, tried to solve the dilemma by calling for a partial merger of the South Stream and Nabucco pipeline routes. ENI's CEO said he would like to see South Stream combined with Nabucco in 'one large project'. Scaroni views the two projects as complementary, rather than competing against each other. He argued that a partial merger of the two projects would reduce investments in construction and operating costs and increase prospective financial returns.
Gazprom, however, immediately rejected the idea. The Russians have since brought in EDF of France as a third shareholder in South Stream and have affirmed that they will continue with the project. In June it was announced that Dutchman Marcel Kramer, currently CEO of Dutch gas producer Gasunie, will become CEO of the South Stream project as of 1 October 2010. Kramer has ample experience with the successful Gazprom-operated Nord Stream project, in which Gasunie is a minor shareholder.
ENI now has come up with a fresh approach. On 21 July, Scaroni proposed to the State Oil Company of Azerbaijan (SOCAR) to participate in a project to transport 8.6 bcm of gas from Turkmenistan through the Caspian Sea by ships in the form of CNG (compressed gas). The plan is to construct infrastructure both on the Turkmen and the Azerbaijani side of the Caspian. A joint working group has been set up that will 'examine the whole range of issues involved'.
Scaroni met with Turkmenistan's President Gurbanguly Berdymukhamedov at least twice in the past year. In November ENI signed a cooperation agreement with Turkmenistan to 'enhance' the country's 'oil and gas potential'. Scaroni in particular discussed options for shipping Turkmen gas westward to Europe via Azerbaijan. The ENI chief later explained that these ideas pertained neither to South Stream nor to Nabucco, apparently in an attempt to soothe both the EU and the Russian side. He told a press conference that the two parties were looking at 'a variety of solutions'. President Berdymukhamedov has stated on a number of occasions that he wants to develop diverse export routes for its gas and has repeatedly demonstrated his interest in the European gas market.
Clever move
The construction of CNG facilities now proposed by ENI is a new solution for the trans-Caspian bottleneck. It would change the position of Turkmenistan vis-à-vis Europe, because it would give the country a new outlet for its gas in addition to Russia. With this plan, then, ENI primarily seems to be creating an option for Nabucco. However, the CNG proposal does not necessarily go against South Stream, since the new route would also make it possible to ship gas from Turkmenistan to Azerbaijan and then on to Russia, to be delivered to South Stream. This is because Azerbaijan has two pipeline systems, one that goes to Russia, through which Russia has booked volumes from Shah Deniz, and the South Caucasus pipeline that goes to Turkey.
The CNG will be supplied at least in part by ENI, although at this moment ENI does not have the required volumes yet. The Italians have assets in Turkmenistan and Kazakhstan and are planning to buy concessions for some fields in Turkmenistan. They have little chance to expand their operations in Kazakhstan. The CNG will come for 80% from South Yoloten through the East-West pipeline that runs through Turkmenistan to the Caspian shore. In addition, some gas (1 to 1.5 bcm) will be taken from offshore oil fields. The volume of 8 bcm could be expanded to 15 bcm in future.
In recent months, Scaroni has met with representatives of the Russian, American and EU governments 'to discuss the technical, financial and commercial aspects' of the project, as ENI has announced. According to the company, the initiative is the first of its kind being studied in the region and would allow, among other things, a substantial reduction of gas flaring in Turkmenistan. ENI says it is committed to applying CNG technology to maritime transport in situations where, due to distance and available volumes, technologies such as transport by pipeline or LNG (liquefied natural gas) are not feasible. The CNG technology allows the transport of high pressure gas (not liquefied) by vessels provided with special containment systems. Once delivered to the destination ports, the decompressed gas is ready to be transported through conventional pipelines.
From an economic point of view, CNG transport is easier to realise than a trans-Caspian pipeline. The project will take 1 to 2 years and will cost $1.5 to 2 billion. And although tensions between Azerbaijan and Turkmenistan are still a reality, and could make realisation of the project difficult, joint economic interests might help to overcome those problems.
The CNG project thus looks like a clever move on the part of ENI to bring Turkmenistan gas supplies to Europe through a new route that does not completely rule out a Russian role. ENI may still be trying to involve Gazprom and to make the Russians at least one of the sourcing partners for Nabucco. Such a move might be politically controversial, but from the perspective of the EU there is no need to view Nabucco as an 'anti-Russian' pipeline. It should not be forgotten that the International Energy Agency predicts that Europe's net gas imports will rise by at least 100 bcm a year by 2030. Energy companies even foresee additional import demand of up to 250 bcm by that date. If such forecasts turn out to be correct, the EU will need Nord Stream, South Stream and all the proposed southern corridor pipelines to satisfy its needs.
Ramiz Mammadov is Project Control Consultant in AS Group Holding, former planning analyst in Agip KCO, RUSAL, KeppelFels Azerbaijan and Baku Interbank Currency Exchange. He holds an MBA in Economics from Western University, Baku, Azerbaijan.
Related articles on European Energy Review:
The riddle of Turkmenistan's gas reserves
EU policy drives Turkey in the arms of Russia
Bulgaria: Gas Consumer of Future Gas Hub?
EU heavily divided on South Stream
Nabucco's window of opportunity
Bulgaria Attempts to Break Russian Hold
Interview Sevak Sarukhanyan, Nabucco Project in Danger