New stability and prospects for Kurdish oil and gas
ExxonMobil has become the world's first major international oil company to venture into Iraqi Kurdistan. ExxonMobil's bold move may be seen as a validation of investor confidence in Iraqi Kurdistan's economic progress. It may even signify that the Kurdistan Regional Government (KRG) is inching closer to reaching an agreement with the central government in Baghdad on the long-standing dispute over the ownership and revenue sharing of the region's hydrocarbon resources. It is high time for European policymakers and businesses to start engaging themselves with Iraqi Kurdistan - as the US, Turkey, Japan and Korea are already doing.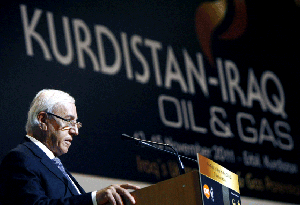 Kurdistan Regional Government Minister of Natural Resources Dr. Ashti Hawrami speaks at the Kurdistan-Iraq Oil and Gas Conference, Erbil, November 13
(photo: The Kurdish Globe)
"From small and beautiful to giant and magnificent". These were the words of Kurdistan Regional Government (KRG) Natural Resources Minister Ashti Hawrami at a recent oil and gas conference in Erbil. Hawrami was referring to the contract ExxonMobil signed with Iraq's semi-autonomous northern Kurdish region on October 18 to explore six blocks in the region. These blocks include Al Qush, Bashiqa, Betwata, Pirmam, Qura-Hanjeer, and a sixth block along the border with Iran near Penjwin. ExxonMobil's daring move – sharply criticized by the central government in Baghdad, which is disputing the legality of the KRG's oil and gas contracts – does not only provide an economic benefit for the region in terms of additional capital investment and industry expertise, it may also be seen as a vote of confidence in Iraqi Kurdistan. Despite the withdrawal of US troops from Iraq by the year's end, it seems that ExxonMobil has deemed the Kurdish region to be safe and commercially attractive enough to invest in.
ExxonMobil – the largest (oil) company in the world by market value – has good reason to believe in Iraqi Kurdistan's opportunities. There have only been two significant terrorist attacks in the region since 2004 (the last one was in 2008) and not a single coalition soldier has been killed nor a single foreigner kidnapped in the area it administers. What is more, Iraqi Kurdistan has undergone a remarkable economic transformation. GDP per capita has jumped from $375 in 2002 to $5500 in 2011, government revenues have increased from $100 million to $10 billion over the same time period, and the economy is projected to grow by 12 percent in 2012.
Top-10
One of the primary drivers of this rapid economic expansion has been the development of the oil and gas sector, facilitated largely by the legal framework for foreign investment established by the KRG. Unlike the central Iraqi government, which only offers energy companies technical service contracts, the KRG awards production sharing contracts (PSCs) which are much more attractive for oil companies. Since it first inked a deal with Turkey's Genel Enerji in 2002 (the firm is set to merge with former BP CEO Tony Hayward's company Vallares), the KRG has signed 45 PSCs with 29 mid-tier energy companies from 17 countries, despite objections from Baghdad. To date, these companies have drilled over forty exploration wells (there are currently fifteen exploration and development drilling rigs in operation in the region) and have made numerous oil and gas discoveries.
These activities have resulted in the discovery of around 5 billion barrels of oil in the Kurdish region today, bringing the total for Iraqi Kurdistan to an estimated 45 billion barrels of proven oil reserves. This means that if Iraqi Kurdistan were a country, it would be in the world top-10 in terms of oil reserves, on a par with Libya. Total Iraqi proven reserves are estimated at 110 billion barrels by the BP Statistical Review of Energy, the fourth largest in the world.
To put this in perspective, Iraqi Kurdistan's oil reserves would place it on par with Libya, the world's tenth largest reserve holder while its combined proven and prospective recoverable gas reserves surpass some of the leading piped-gas suppliers to the EU including Norway, Libya, Azerbaijan, the Netherlands, and the UK.
In terms of output, oil production has increased dramatically from a standing start in 2007 to some 200,000 barrels of oil per day (b/d) in 2011, of which 100,000 b/d were exported; the KRG plans to
If Iraqi Kurdistan were a country, it would be in the world top-10 in terms of oil reserves, on a par with Libya
increase exports to 175,000 b/d in 2012. Within five years, the KRG aims to export 1 million barrels per day through the Kirkuk-Ceyhan pipeline to Turkey. Considering the low exploration and development costs ($2-3/barrel for exploration and $1/barrel for operation) and the proximity to large markets, the prospects for meeting this target are realistic.
Top priority
The development of the domestic natural gas market over the short to medium-term is a top priority for Iraqi Kurdistan because gas is seen as a major fuel source, with gas-to-power expected to lead the way. Proven reserves are estimated at 100-200 trillion cubic feet (tcf) or 2.8-5.6 trillion cubic metres. This is more than countries like Norway, the Netherlands and Kazakhstan. Since commercial gas development is still in its initial stages, it is not clear yet how the region's export will develop. For now, gas supplies have been allocated as follows: 4-5 tcf for existing power plants in the region, 10 tcf for six new power plants throughout broader Iraq, 5 tcf for industrial domestic use and 2 tcf for a new power plant in Turkey.
Currently, a consortium led by Crescent Petroleum based in Sharjah in the United Arab Emirates (Crescent 40%; Crescent's sister company Dana Gas 40%; Hungary's MOL 10%; Austria's OMV 10%) operates the only commercial gas fields at Kormor and Chemchemal in the Kurdish region and produces 300 million cubic feet (mcf) a day. Substantial investments in gas production and processing facilities are helping to generate twenty-two hours of electricity daily for four million people in the region, up from just two hours a few years ago and compared to four hours of available power in the rest of Iraq.
In addition, according to the KRG Ministry of Natural Resources, the KRG is planning to gasify power stations at Dohuk, develop an additional 6000 MW of predominantly gas-fired power generation capacity, and supply the greater Iraqi market with electricity including the neighboring states of Kirkuk, Ninevah, and Salahudin (which is sure to foster improved relations between the Kurdish and Arab provinces). Besides helping to create a domestic gas market, promoting gas-to-power carries the added advantage of providing the highest economic value for power generation because it displaces oil, hence increasing the availability of crude supplies for exports.
In order to help boost production and meet domestic demand over the longer term, the KRG aims to implement measures to develop both associated and non-associated gas fields, secure long-term demand centers (which are necessary to facilitate large-scale investments in upstream projects) and avoid wasteful practices such as gas flaring. It thus expects gas output to satisfy the demand for electricity, industry (fertilizer, cement, steel, methanol, etc.) and houses (central heating, cooking gas) in the coming years.
Gas export potentials
The KRG Ministry of Natural Resources has stated that it intends to export natural gas once domestic demand is met, with Turkey being the first and most obvious export destination. Political relations between the KRG and Turkey have improved immensely over the past few years, and Turkey has increasingly been developing itself as a "good hegemon" for Iraqi Kurdistan. As a sign of improved relations, Turkish president Recep Tayyip Erdogan visited Erbil on March 29, 2011 to open the city's new international airport together with Kurdish President Massoud Barzani. The KRG has actively sought a positive relationship to Ankara and does not support the PKK.
The Kurdish region's gas fields are in close proximity to Turkey's southeastern border and the existing infrastructure capacity there. Therefore, the gas fields are strategically placed to compete in the Turkish market with other major suppliers like Russia and Iran. Turkey imports over 98% of its natural gas and
The Kurdish region's considerable reserves can play an important role in the EU's efforts to diversify gas supplies through a southern corridor
its demand has steadily increased from 0.4 billion cubic meters (bcm) annually in 1986 to 35 bcm in 2009. Russia provides approximately 52% of Turkish imports, Iran 16%, Azerbaijan 15%, Algeria 14% and Nigeria 3%, according to figures from the International Energy Agency (IEA). With strong economic growth being forecast and the planned construction of many new gas-fired power plants in the country, Turkey's natural gas consumption is projected to nearly double to 61 bcm by 2020, thus strengthening the demand for Iraqi gas.
Piped gas to Europe via Turkey is also being considered as an export option for Iraqi Kurdistan. Demand for natural gas in Europe is expected to rise due to climate concerns and nuclear phase-outs in several countries including the EU's second largest gas consumer Germany. Consequently, the Kurdish region's considerable reserves can play an important role in the EU's efforts to diversify gas supplies through a southern corridor in order to lessen its dependence on Russian exports. Gas deliveries from northwestern Iraq could potentially be transported via several prospective pipelines including Nabucco, the IGI Poseidon (also known as the Greece-Italy pipeline) or the more probable Trans-Adriatic Pipeline (TAP) and/or the recently proposed BP South-East Europe Pipeline.
Furthermore, the Ministry of Natural Resources has indicated that LNG exports may be a viable alternative and can potentially compete with pipeline exports given the current price levels and distance to market. At a workshop organized by the London-based EUCERS (European Centre for Energy and Resource Security) on June 16, 2011, Minister of Natural Resources Hawrami stated that the KRG intends to send its gas to international markets by sea rather than wait to pipe it to Europe should the construction of pipelines take too long to materialize. Such a scheme would envision transporting gas to an LNG terminal in Ceyhan in Turkey, which could then export it onward to Spain, France, the UK, or elsewhere.
Dire consequences
Pipelines in Erbil (photo: www.shebacss.com)
The realization of all these prospects could be greatly facilitated if the KRG and the central government were to resolve their protracted dispute over the absence of a revenue-sharing law and the draft hydrocarbon law of 2007. The passing of such legislation is essential, as it provides a firm legal basis for the allocation of oil and gas proceeds and a regulatory framework for contracts and investment.
Baghdad has thus far refused to recognize the legality of bilateral contracts signed between the KRG and investors and has a policy of blacklisting such companies from operating in the oil-rich south. Hence, ExxonMobil's move into Iraqi Kurdistan could jeopardize its considerable upstream investments in southern Iraq, a region that is even richer in oil than the northern part. The company entered a twenty-year venture in 2009 to develop Phase I of the giant West Qurna oil field (ExxonMobil 60%; Shell 15%; Iraqi state company 25%). The consortium is now producing around 350,000 barrels per day out of a total of 8.5 billion barrels for just Phase I of this project. In addition, ExxonMobil is leading a major water injection project and has qualified for a fourth licensing round in 2012 to explore 12 more blocks in Iraq.
The federal Iraqi oil ministry has already sent out three letters to ExxonMobil to warn of "dire consequences", which could result in a potential termination of its contract or an exclusion from future bidding rounds, if Exxon does not rescind its deal in Iraqi Kurdistan. This is what happened to US independent Hess, which had qualified to take part in Iraq's fourth licensing round in 2012 but had its qualification revoked after entering into an agreement with the KRG in July 2011.
Despite these risks – and even some criticism from the US government – ExxonMobil has not budged yet. Indeed, its decision to enter a binding contract with the KRG may well indicate that it is confident that Erbil and Baghdad are making significant progress towards reaching an accord soon. There are several factors that underpin this argument.
Firstly, the KRG has agreed to use the 2007 draft hydrocarbon law as the basis for discussions on a federal law. It plans on working together with Iraqi Oil Minister Abdel Karim al-Luaibi to revise the law before submitting the amended draft to parliament by the year's end. While there are no guarantees, signs of reaching a deal are more positive now than they have been for quite some time.
Secondly, given ExxonMobil's substantial stakes in southern Iraq, it is doubtful that it would have chosen to put them at serious risk if it were not satisfied with the current pace of political developments.
Finally, several of the Kurdish blocks acquired are in disputed territory and may even overlap other provincial jurisdictions. Thus, it is highly improbable that the US major would first risk its assets in the south while investing in politically disputed territories that may potentially be a point of conflict in the future if it were not confident that a resolution will be reached.
Major player
All in all, it seems much more probable that ExxonMobil has recognized the positive outlook for
ExxonMobil's move into Iraqi Kurdistan could jeopardize its considerable upstream investments in southern Iraq
regulatory reform and wants to be the first major player to gain a foothold in Iraqi Kurdistan. This will consequently provide the company with a competitive advantage vis-à-vis other major corporations like Shell, Chevron, and Eni (who are said to also have held talks with the KRG) that may potentially follow in Exxon's footsteps should an agreement between Erbil and Baghdad be reached.
This does not mean that there are no risks. Some questions still need to be resolved, such as the issue of Kirkuk, which falls outside the KRG but is at the heart of Kurdistan. More generally, the Iraqi State as a whole remains volatile, limiting the Kurdish regional government's freedom to act.
This makes it all the more important for the EU and European governments to wake up to the reality of developments in Iraqi Kurdistan. They should acknowledge the political and economic progress that has been made in the Kurdish region and understand that the KRG has far-reaching rights under the present constitution. The KRG is responsible for all the internal affairs of the region and may pass its own laws as long as they are not in violation of the Constitution.
European energy companies also have a much too limited presence in the region. Many large companies specifically prohibit their employees from travelling to the Kurdish region because of the perceived risks and because they are unwilling to bear the costs of guards and escorts, which, however, are unnecessary. As a result, many Middle Eastern, Asian and Turkish companies are taking up an ever larger market share. Now even ExxonMobil got ahead of its European rivals.
About the author
Friedbert Pflüger is Professor and Director of the European Centre for Energy and Resource Security (EUCERS) at King's College London. He served for twenty years as a Member of Parliament and was State Secretary in the first Merkel government. He is also Executive Director of the Kurdish-German-European (KGE) Business Alliances, Berlin/Erbil. See also his article "Stability in Northern Iraq", International Politics Journal, June 25, 2011.

Arash Duero is a consultant at KGE Business Alliances, Berlin/Erbil.