Norway's offshore investments have reached their peak
In 2014 and 2015 Norway's offshore investments will see a slight increase, but in the following years they will level out. However, with annually estimated NOK 210 billion (25 billion euro), they still remain high. It is noteworthy that after years of steady decline, with production falling by 5 percent in 2013 compared with 2012, Norway's oil production is expected to improve in 2014 from 1.46 to 1.47 million barrels (bbls) per day with an outlook for "relatively stable oil production in the next few years", according to the Norwegian Oil Directorate NPD.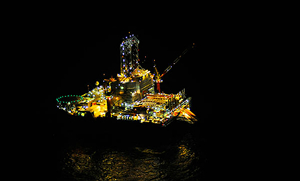 Skrugard Field Development Project, Barents Sea
(c) offshore-technology.com
According to the NPD, in 2013 Norway's petroleum production reached 213.7 million standard cubic metres of oil equivalents (scm.oe), 4.9 percent less than in 2012. This was expected after the record high gas sales in 2012. The NPD estimates a 0.5 percent increase for 2014, and for the following years a further "slow increase". Last year is regarded a successful year with record numbers of fields in operation (78). Twenty new discoveries were made, seven more than in 2012, which offset roughly half of what was produced in the same year. The resources proven included between 50 – 106 million scm of oil (1 scm oil = about 0.85 tonne oil) and 30 – 58 billion scm of recoverable gas. Seven of the discoveries were made in the North Sea, eight in the Norwegian Sea and five in the Barents Sea. No less than 59 exploration wells were spudded, up by 17. With 24 wells, Statoil spudded most, followed by Lundin (15) and Wintershall (8).
In 2013, gas sales dropped by 5 percent to 108.7 billion Scm, oil production amounted to 84.9 million Scm (1.46 million bbls per day), a decrease by 4.8 percent - still less than expected.
For the period 2014 to 2018 the NPD makes this production forecast:
| | | |
| --- | --- | --- |
| | 2014 | 2018 |
| Oil (million Scm) | 85.5 | 85,9 |
| NGL (million Scm o.e.) | 18,9 | 19,6 |
| Condensate (million Scm) | 3,2 | 3,5 |
| Liquid (million Scm o.e.) | 107,6 | 109,1 |
| Gas (billion Scm) | 107,0 | 115,8 |
The offshore industry's investment plans are determined by two factors:
Bente Nyland: "Concerns over the cost level and oil prices must not prevent us from making decisions that will secure our income base for many years to come."
the oil and gas price, and the development of costs. Bente Nyland, the NPD's Director General, whose contract was recently extended by the government for another six years, believes that the oil industry will face many challenges. She emphasises that the NPD's commitment to producing all profitable resources will become increasingly important. She concludes: "Concerns over the cost level and oil prices must not prevent us from making decisions that will secure our income base for many years to come."
Up to now, oil price and costs have followed each other, and since 2005 both have almost doubled. The uncertainty about the oil price has a direct impact on the offshore company's willingness to invest. The Norwegian Oil Directorate maintains in its report: "The high cost level has been a contributing factor to recent project postponements, where low profitability is cited as an important parameter." The cost-oil price relation does not only affect new projects, but in the same way affects investments in new installations in old fields. "If decisions regarding new installations are postponed, fewer new production wells will be drilled than assumed for this forecast." There are plans for new installations on several of the operating fields.
Based on the 2013 NOK price level, the Petroleum Directorate estimates for 2014 investments to be NOK 176 billion (21 billion euro). They are expected to rise to about NOK 180 billion (21.4 billion euro) in 2015, and then remain at around NOK 170 billion (20.2 billion euro) for 2016 – 2018. A major part, around NOK 90 billion (10.7 billion euro) per year, is reserved for existing fields. Furthermore, thirteen new fields are being developed, three with floating installations, and six with seabed installations. The other four are subsea developments. This investment amounts to more than NOK 65 billion (7.73 billion euro) for 2014 . Exploration costs come in addition, estimated to amount to slightly less than NOK 34 billion (4.04 billion euro) per year in the forecast period. It is assumed that 50 exploration wells will be drilled per year. The NPD regards this activity level as "robust" due to the many, and in part large, discoveries in recent years, such as the fields Johan Sverdrup in the North Sea and Johan Castberg in the Barents Sea, substantially increased acreage and improved access to drilling rigs. The scarcity of rig capacity has produced severe problems over the last few years. However, now the rig capacity has significantly increased. At present, writes the NPD, the main challenge is the costs associated with the drilling of wells, which is a consequence of the previous shortage of rig capacity.
Whilst the Norwegian Petroleum Directorate's investment estimate for 2014 ends up at NOK 210 billion (25 billion euro),
Despite the drastic decrease in investments in operating fields, having almost halved, the general mood in the industry and among politicians is still quite optimistic.
the Norwegian Oil and Gas Association's comparable figure is NOK 220 billion (26.14 billion euro), and Statistics Norway, the State's Statistic Office, predicts NOK 223,3 billion (26.53 billion euro), the figure being 211,9 (25.2) for 2013. Despite the drastic decrease in investments in operating fields, having almost halved, the general mood in the industry and among politicians is still quite optimistic. Thina M. Saltvedt, analyst at Nordea Markets, is not surprised by the investment decrease and level-out. She points at the increasing costs. "As a result of that, the speed will slow down. In the future, the industry does not have the financial capacity to start as many new projects as in the past."
Bjørn Harald Martinsen, economics manager at the branch organisation Norwegian Oil and Gas Association, is also not disturbed by the halt of investment growth. When the ongoing upgrading process for several older installations comes to an end, for a certain period there will be no need for further investments. Instead he points to another more encouraging development: "After almost a decade of declining production, we are at another turning point where output has again begun to rise." At the same time, he criticises the government for not opening the strongly disputed areas around the Lofoten, Vesterålen and Senja for at least another four years . "Only about forty percent of the area where petroleum could be found has been opened." He is convinced that with a stable level of activity, which is also the declared goal of the government, the recently commenced turn-around towards increased production could be extended beyond 2020.
At the start of her new six year term as Director General of the Norwegian Petroleum Directorate, Bente Nyland described her task lying ahead: "The key now is to ensure that the companies do not take decisions they are going to regret in ten, twenty or thirty years."