Suzlon predicts massive growth in Indian wind energy
'The Copenhagen summit is crucial for the global society,' Tanti tells this reporter in an interview on the sidelines of the Copenhagen summit. 'Everybody wants a result from this talks and we should seal the deal.'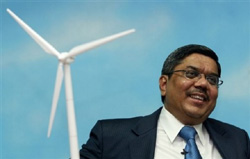 Tulsi Tanti, CEO Suzlon
The charismatic entrepreneur founded Suzlon in 1995 with just 20 people. The company has since grown to a business with more than $5 billion in sales and 15,000 employees. While it has had a rocky 2009 because the financial crisis slowed down demand for wind turbines, Tanti is optimistic that Copenhagen can lend a vital boost to the global wind industry. 'If the deal is closed, and if there is a global treaty with global binding targets, then … that will bring a growth momentum of 30% per year,' he says. His prediction exceeds the 22% forecast by the Global Wind Energy Council.
Tanti hopes a Copenhagen agreement to include an effective mechanism for clean technology transfer to developing countries that will spark the development of the next generation of wind turbines. He says those turbines need to become cheaper so that developing countries can afford them and 'grow more sustainably.'
But even without a Copenhagen treaty, the entrepreneur expects global wind turbine sales to grow by 'at least 20%' a year. This is due to ambitious national emissions reductions and renewable energy targets in Asia, Europe and the US, and an overall awareness raised to climate protection that 'will bring a lot of good development for the renewable industry.' Investing in renewables, he adds, 'averts the global climate crisis, creates green jobs and provides energy security for a country.'
Home markets
And it helps Suzlon. The company is currently losing money, but Tanti says he is confident that Suzlon will perform strongly in 2010. He says the financial situation in the global energy market is steadily improving. 'In Europe, the project financing market has increased so that the European market is coming back,' he says.
Suzlon owns a 92% share in REpower, a Germany-based manufacturer of large-scale turbines. Suzlon is expected to try to gobble up the remainder because the Germans possess great expertise linked to offshore turbines – technology that could then be transferred to the mother company.
While the U.S. market is still hampered by low gas prices, Tanti can bank on its two home markets, India and China, to grow massively over the next years. 'Banks there are extremely healthy,' he says.
India has a huge onshore wind power potential and already, companies from all over the world are gearing up besides Suzlon for the business to be won there. But is there enough room for the likes of Vestas and Siemens in India? 'The answer is yes,' Tanti says. 'The demand for power in India will continue to grow … and we have a good ambitious national renewable energy target -- 15% has to come from renewables, mainly wind and solar … so there is good sufficient space for everybody.'
Yet besides all the upbeat forecasts, it will be key for Suzlon to reduce its debt to become flexible as markets are growing. Because of falling sales, technical problems with some of its turbines and an ambitious expansion strategy, Suzlon has amassed around $2.5 billion in debt. It is currently trying to consolidate its many loans into a single one.
The lead banks, the State Bank of India and IDBI Bank, have already agreed to what Bloomberg says is a single $2.8 billion loan, and Tanti says he expects the remaining two dozen or so banks to agree as well. 'We are very comfortable to complete the bank process by the end of January,' he says.