The EU risks ending up with not a single CCS demonstration plant
The CCS mess
The most likely recipient of millions of fresh EU funds for carbon capture and storage (CCS) now appears to be the unlikeliest candidate of all: a French steel plant that was shut down a year ago. All the projects recently tipped as top contenders for the money – up to €337m per project in carbon market funds – appear on the verge of falling off a cliff for reasons that are not yet clear. What is clear is that this soap opera has left CCS advocates flabbergasted and perhaps for the first time seriously wondering whether CCS has a future at all in Europe. Sonja van Renssen has the latest news from Brussels.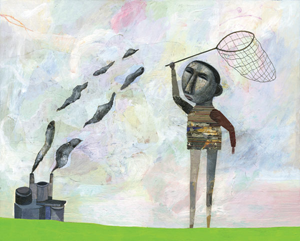 The biggest upset comes from the UK (c) Jordin Isip
The EU has raised some €1.5bn in carbon market funds that are to be awarded to 2-3 CCS demonstration plants and an array of innovative renewables projects by the end of this year. This is from the sale of the first 200 of 300 million carbon allowances – the "NER300" – set aside in the current trading period of the EU Emission Trading Scheme (ETS) specifically to raise money for CCS and innovative renewables. It is the second round of EU funding for CCS after Brussels lavished €1bn in economic recovery funds on the technology back in 2009. That money went to six projects. The shuttered French steel plant was not one of them. Of the six, four have been derailed by permitting, public acceptance and financing issues. Of the two that remain – the UK's Don Valley project led by 2CO and the Dutch ROAD project led by Eon and GDF Suez – the first tops a European Commission shortlist of projects in line for NER300 funding that was unveiled in July.
Up until a few weeks ago, the top contenders for the carbon market money were Don Valley, the Netherlands' Green Hydrogen project (tied to the ROAD project; under an agreement with the Dutch government it applied for the NER300 instead of ROAD) and a project in Romania called Getica.
But there was a catch. To be eligible for the new money, projects had to be backed by a national government that could demonstrate adequate funds of its own to co-fund the project and create a viable business case. "It is only with confirmed projects that we can continue our journey," the European Commission's Director-General for climate change Jos Delbeke told a CCS conference in Brussels in early October. The deadline for member states to choose their champions and submit their plans was the end of October.
There has been no public announcement from the Commission since then. But sources say only four governments have actually sent Brussels a response. One of those, from Romania, is said to be negative – it is opting to wait for revenues from the second batch of allowance sales, the 100 million still to be sold, rather than bid for part of the €1.5bn. Two more, from the UK and the Netherlands, have reportedly been deemed inadequate by the Commission. It seems that only France has successfully made its case. The Ultra-Low CO2 Steelmaking (ULCOS) project at an ArcelorMittal plant in Florange (northeastern France) is back in the game even though it was last (8th) on the Commission's NER300 shortlist.
Biggest upset
What happened? The biggest upset comes from the UK. The Don Valley project crashed and burned two weeks ago when the UK government announced a shortlist of four projects for its own national £1bn CCS competition. Don Valley wasn't on the list. "We are trying to come to terms with how the UK's most advanced project that has been selected by the EU for funding… has not even made it to the UK's shortlist," said 2CO's CEO Lewis Gillies in response to the announcement. "We cannot take this project further without funding from the UK government," he added. 2CO said it had already secured £1bn in overseas investment, notably from South Korea. It also got €180m in EU economic recovery funds in its previous guise as the Hatfield project (those owners went into administration).
Why didn't the UK government choose to back it? There is no official line and plenty of theories around. One that keeps cropping up is that it was simply too expensive. The Don Valley project came with an upfront price tag of some £4-5bn. It involved building a whole power plant from scratch. For it to go ahead it would have needed most of the £1bn the U
Some stakeholders postulate that the real reason behind the UK's decision not to back 2CO is a growing desire to kick CCS back into the long grass
K government had to offer and even then there remained a risk the finances wouldn't stack up. A second theory is that the £1bn doesn't actually exist. Or rather that it exists as a political commitment, but not in cold, hard cash. A few hundred million maybe, but a billion? If there is any truth to this, choosing to back a project like Don Valley would have been impossible in practice. A third theory, that Don Valley was rejected because it involved Enhanced Oil Recovery (EOR) is not given much credit by stakeholders. The decision doesn't write off EOR, they say, although it does suggest the government wasn't completely convinced by the argument that it would recoup its initial investment through additional oil taxes.
The four projects the UK did put forward for its own competition – Summit Power's Captain Clean Energy Project in Grangemouth, Scotland, SSE and Shell's gas CCS project at Peterhead, Progressive Energy's Teesside project and Drax and Alstom's project at the Drax power station in Yorkshire – are generally less advanced than the Don Valley project. They still require detailed engineering studies – at a cost of some £20-40m each (although some can make use of previous work e.g. Peterhead's proposed storage site) – before talk can begin over a final investment decision. With the crisis still in full swing choosing projects that require less spending now makes sense, but some stakeholders also postulate that the real reason behind the UK's decision not to back 2CO is a growing desire to kick CCS back into the long grass.
This theory feeds itself too on the fact that sources today say none of the UK projects are set to win any EU NER300 funds. Its submission to the EU – and here the same is true for the Netherlands – has reportedly been deemed not to offer the necessary financial guarantees to qualify for EU funds. There is politics at play here, with the UK saying it cannot offer firmer guarantees when its own CCS competition is still open. But certainly for British Liberal MEP Chris Davies in Brussels it's clear who is to blame: "The Treasury has succeeded in ensuring that Britain has failed to secure advantage of an EU funding mechanism that we were responsible for introducing." Davies has led debate on CCS in the European Parliament and proposed the NER300 pot back in 2008.
This Thursday the Commission is reportedly scheduled to recommend projects for NER300 funding to member state representatives. There is a chance there will not be a CCS project on this list, which means all of the €1.5bn raised by the NER300 to date would go to renewables projects.
Tremendous costs
With one possible exception: ULCOS. First to clarify, this plant has not been shut down, it has been idled (or put on standby), explains Jean-Pierre Birat, an expert from ArcelorMittal and European Coordinator of the ULCOS Program. ULCOS is an R&D effort into CCS for steel production set up by a consortium of 48 European companies and organizations from 15 countries (some say Sarkozy insisted on it as a CCS project for France). An idled plant can be restarted at any time, Birat continues, provided there is a market for it to sell to. The Florage plant has been put on standby – as indeed a full third of ArcelorMittal's plants – because demand for steel in Europe has shrunk by a quarter since 2008.
"We need a recovery somehow," Birat says. The award of NER300 funds alone would be insufficient reason to re-open the plant, he adds, because its raison d'être is to produce steel, not CO2. This involves "tremendous" costs that can only be covered if there is a market to sell to. The French government is reportedly looking into lending a helping hand, which could result in an earlier opening, but Birat maintains: "You need a market." He imagines the CCS work could continue in 2015-16 when the economy picks up for completion around 2020. The consortium has identified a potential storage site and the next step would be to go on-site to verify what modeling has told them. Total cost? Around €0.5bn, considerably less than the Don Valley project! Up to half of this could from the NER300 according to the rules.
The big question is: what will the Commission do next? Who will it award the NER300 funds to? CCS advocates such as Eric Drosin from the Zero Emissions Platform (ZEP), want EU climate commissioner Connie Hedegaard to show some flexibility and give the UK and D
If anything, the most this latest set of funding decisions will do is re-orient CCS back to continental Europe and industry
utch "the time and space for them to understand the reasons for non-compliance," as Drosin puts it. This would in practice mean pushing the award decisions back to at least March next year. But others, such as Vivian Scott, a CCS expert at Edinburgh University, say member states have been aware of the timetable and requirements, and should have prepared bids appropriately - the crucial question is what guarantees can be made by member state governments that any delay can improve the situation.
Nothing is official yet and we say watch this space but overall it's difficult to see any progress compared to where Europe was three years ago. If anything, the most this latest set of funding decisions will do is re-orient CCS back to continental Europe and industry: ULCOS and ROAD (led by Eon and GDF Suez) are both industrial rather than power projects and both are led by continental European rather than Anglo-Saxon giants. In the bigger scheme of things the next thing for the Commission to do might be to revisit its low-carbon 2050 roadmap to see what a "delayed CCS high renewables" future means for energy security, sustainability and affordability.