The Finnish way: nonprofit nuclear power
With the decision of the Finnish cabinet on 6 May to grant applications for two new nuclear power stations, Finland has taken a major step towards a significant expansion of its nuclear capacity. All that remains is for the Parliament to approve the decision. The suppliers, TVO and newcomer Fennovoima – both non-profit consortiums – believe the new reactors could become operational by 2020 and deliver power for 60 years. Remarkably, the third application, by state-owned energy producer Fortum, was rejected.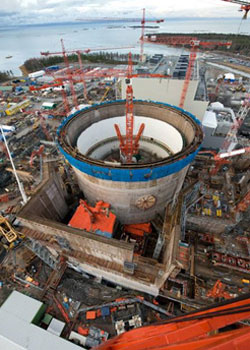 Construction of the Olkiluoto 3 reactor
The energy policy of the Finnish government has three major objectives: to become independent from Russia in its power supply, to make a dramatic shift towards emission-free production and to realise an attractive price level for industry and consumers. According to the government, these objectives can only be achieved by expanding nuclear power.
It is a view that even Mauri Pekkarinen, Finnish Minister of Economic Affairs, has felt compelled to subscribe to. A year ago he declared in a newspaper interview: 'We don't need any new reactors or at most we need just one.' Now the same Minister says in the statement from the cabinet that 'these decisions by Government will act as a driving force for huge investments in future, totalling several dozens of billions in euros. In the current economic situation this constitutes an extremeley strong positive signal to industry, encouraging it to invest in Finland's future with confidence.'
Within the cabinet only the Minister of Labour, Anni Sinnemäki, of the Green League, and her party colleague Tuija Brax, the Minister of Justice, voted against the applications. Sinnemäki spoke of a 'risky decision'. But Minister Pekkarinen observed: 'The additional construction of nuclear power is in line with the overall good of society.'
In 2009 Finland produced 68.7 TWh (terrawatt hours)of electricity. Of this 12.6 TWh was hydropower, 0.3 TWh wind, 22.6 TWh nuclear, 24.2 TWh combined heat and power, 9.1 TWh thermal power. In addition, 14.6 TWh was imported, mainly from Russia. The new nuclear power plants (npp's) will mainly serve to replace Russian imports as well as coal- and gas-fired power and to meet demand growth.
Experience gained
If parliament approves the cabinet decision, the two suppliers will have five years to obtain their final building permits. The government has agreed to TVO's proposal to store the radioactive waste together with the waste produced by its two existing nuclear power stations, Olkiluoto 1 and 2, and the power station currently being built, Olkiluoto 3 (OL3). A new company, Posiva, was set up some years ago by TVO and Fortum which is already preparing to build a facility to store highly radioactive waste after 2020. Fortum operates the other two of the five npp's in Finland, Loviisa 1 and 2. Fennovoima intends to join Posiva, or if this is not possible, it will build its own facility. It must have a building application ready within 6 years of a parliamentary decision to approve the new npp.
What is perhaps remarkable about TVO's decision to expand its reliance on nuclear power is that it has been experiencing major problems with Olkiluoto 3 (OL3), which is at this moment being built by French energy company Areva. OL3 will not be ready before mid-2012 at the earliest, almost three years later than planned, and will cost at least €4.5 billion, 50% above budget. But this has not deterred TVO. On the contrary, in a statement made after the cabinet approved its building application, ceo Jarmo Tenhusaid referred to 'the significance of the experience gained from the Olkiluoto 3 project'. He said that 'the company will take full advantage of the globally acknowledged Finnish nuclear power expertise accumulated at TVO as a result of the construction of the new-generation nuclear power plant unit and the operation of the OL1 and OL2 units.'
OL4 will, like its predecessors, be built on the Finnish Baltic Sea coast on the island of Olkiluoto, 13 kilometres north of Rauma. In its building application, TVO – a consortium consisting of a mixture of power-intensive industries and municipalities whose mission it is to provide its shareholders with affordable electricity – has included virtually all existing reactor types as possible options. The list ranges from the two boiling water reactors ABWR Toshiba (1650 MW) and ESBWR GE Hitachi (1650 MW) to the three pressurized water reactor plants APR1400 (Korea Hydro and Nuclear Power, 1450 MW), APWR Mitsubishi (1650 MW) und Areva's EPR (1650 MV).
Fennovoima is a newcomer on the Finnish power market. The company was founded in 2007 with just one mission: to build a new nuclear power plant. It is structured in the same way as TVO: the shareholders are large paper and pulp producers such as UPM and Stora Enso in combination with a large number of municipalities. Fennovoima's shareholders are 48 local energy utilities, including the towns of Turku, Lathi, Jyväskylä, Kemi and the island of Åland, as well as 15 industrial and trade companies, including AGA, Boliden, Kesko and Outukumpu. These together own 66% of the shares – the remainder is owned by Eon Nordic, a subsidiary of the German energy giant Eon. The participation of Eon is meant to ensure that the consortium will have the latest international nuclear know-how at its disposal. Eon is the second-largest nuclear power supplier in Europe after EDF in France. Like TVO, Fennovoima is run like a non-profit cooperative. The participants wanted an alternative to the options available on the free market, which is dominated in Finland by Fortum and Vattenfall. With their own power plant they are able to source electricity outside of the relatively high-priced Nord Pool trading exchange.
Fennovoima has yet to make a choice whether it will build one large reactor of 1500 to 1800 MW or two smaller reactors of 1000 to 1250 MW. Possible suppliers are Toshiba (ABWR boiling water reactor of 1600 MW) or Areva (EPR pressurized water reactor of 1700 MW or two SWR boiling water reactor of 1250 MW each).
As a newcomer Fennovoima was able to choose any location. TVO and Fortum already have locations for their existing nuclear power plants – Olkiluoto and Loviisa – which are naturally suited for additonal plants. Fennovoima looked around and was able to make a strategically and politically attractive choice: its one or two reactors will be built on the North Finnish Baltic Sea coast, either in Simo, south of Kemi in the province of Lapland, or in Pyhäjoki, about 500 kilometres south of Oulu. While the consortium has made sure it has the support of the local population, the neighbouring Swedes are not so happy. The first sceptical voices have already been heard on the Swedish side.
Russian imports
The cabinet's decision-in-principle is based for a large part on a judgment of the state regulatory authority STUK (Radiation and Nuclear Safety Authority). It ruled that all three applications (TVO, Fortum and Fennovoima) are economically feasible and in accordance with Finnish legislation, if under certain conditions, in particular related to the ever higher safety standards. But STUK judged that these could be handled under normal business practice. It did add an important consideration. It said that 'there will be a growing need for nuclear safety experts in Finland if the Government and Parliament adopt and ratify a decision-in-principle to build a new nuclear power plant. It is the considered opinion of STUK that Finnish universities must ensure the comprehensive availability of basic studies in nuclear technology in Finland.'

But STUK did not have fundamental objections. So why did the government refuse the application of Fortum – although this company is owned 50.1% by the state? In Helsinki the following argument can be heard. Both TVO and Fennovoima are what in Finland are called Mankala (i.e. nonprofit) companies. They sell electricity to their owners at cost. Fortum on the other hand sells all its electricity via Nord Pool at market prices – and makes very large profits in the process. So, both politicians and electricity users tend to favour the Mankala companies.
But Fortum does not have to give up hope yet that it will be able to build a nuclear power plant in future. In Finnish energy circles the following calculation is made: 'We need one reactor to compensate for the Russian electricity imports, since we want to be independent of Russia, and a second one to compensate for the closure of old polluting coal-fired power plants. A third reactor will be needed to meet growing demand in the coming years and to compensate for the anticipated closure of Fortum Loviisa 1 in 2027 and Loviisa 2 around 2032. So after the parliamentary elections of 2011, the next government will probably grant a permit for the third reactor for Fortum.'
First, however, the Finnish parliament will have to approve the cabinet's decision. According to Prime Minister Matti Vanhanen this could happen before the summer break (end of June), if the political will exists. The Green League is the only party opposed to the expansion of nuclear power. However, although the opposition Social Democrats and ruling Centre Party (to which prime minister Vanhanen and Economic Affairs Minister Mauri Pekkarinen belong) are both in favour of more nuclear power, they have not committed themselves to how much more they find desirable. The Conservatives, who are also part of the government, are in favour of three new nuclear reactors without any reservations. If a decision is not made before the summer, it should come no later than October, since in November a new election campaign will begin for the general elections taking place in the spring of 2011.
Among the Finnish population support for nuclear power has never been as strong as now. According to a recent TNS Gallup poll, 48% is in favour of nuclear power, 17% against and 29% undecided. When the newspaper Helsingin Sanomat asked its readers in March specifically whether they wanted a sixth reactor, the results were somewhat different: 27% said yes and 26% supported this idea only to some extent. A quarter were opposed, 18% somewhat opposed and 5% undecided.
For Reiner Gatermann´s first-hand report on the problems TVO has been experiencing with the Areva-built OLK3 new nuclear power plant, see "Cracks in the nuclear showcase"