The birth of a European gas infrastructure market
At the same time that the European gas market is being liberalised and integrated, a separate development is taking place, with a dynamic of its own, namely the Europeanisation of the gas infrastructure sector. This is a development that gets much less public attention but is no less important for the success of a competitive European gas market. What is happening, in effect, is that the (unbundled) gas infrastructure companies are 'following the market': rather than confining themselves to their traditional national markets, they are expanding internationally, competing with each other, innovating and diversifying. They have to do this, they say, to be able to service the trading markets efficiently. EER's chief editor Karel Beckman discussed this new development with the management of one of the companies that is taking the lead in this process: Dutch gas infrastructure company Gasunie. The company's message: don't stop us now - we are making the European gas market work.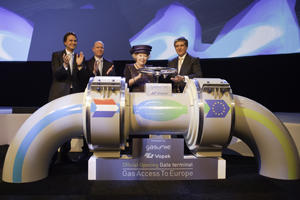 Opening of the GATE LNG-terminal, a joint-venture of Gasunie and Vopak, in September 2011 in Rotterdam (c) Gate
Let's start this story with a few simple facts.
In 2008, Shell and ExxonMobil sold the BEB gas pipeline network in Germany to the gas infrastructure company Gasunie - parent company of the Dutch transmission system operator (TSO) GTS.
In December 2010, German energy company RWE sold its gas transmission network Thyssengas to the infastructure investment fund Macquarie Infrastructure and Real Assets.
In 2011, Italian oil and gas company ENI sold stakes in two pipelines - TENP and Transitgas, which run from the Belgian-Dutch-German border through Switzerland to Italy - to Belgian TSO Fluxys.
In 2012, German energy company Eon sold the German gas pipeline network Open Grid Europe (OGE) to a consortium of financial investors, led by Macquarie.
Consider these the first rumblings of an earthquake that is about to shake up the European gas infrastructure market. Similar transactions will follow, as a number of other TSO's, including Net4Gas (Czech Republic), Eustream (Slovakia) and DESFA (Greece), are currently up for sale.

What is happening? Well, in one sense, what is supposed to be happening. Energy companies like Shell, ExxonMobil, ENI and Eon, which are active in the production and sale of gas, are selling their infrastructure assets, which is something that is certainly 'encouraged' by the 'unbundling' requirements of the EU's Third Energy Package. The idea behind this legislation, adopted in 2009, is to create on the one hand a free market in which producers and suppliers of gas compete with each other, and the other hand a regulated market in which independent infrastructure operators supply services to those producers and suppliers on equal terms.

So far so good. The liberalised gas market is up and running - activity on the new trading hubs in Europe is growing rapidly, national markets are becoming integrated, more players are becoming active, choice for customers is increasing. This is what policymakers wanted.

But what about this other 'market', the infrastructure part? How is that supposed to be developing? How are the newly independent infrastructure companies supposed to carry out their task of facilitating the market players? They are regulated, yes. But are they supposed to be publicly owned, privately owned? Nationally oriented or internationally active? Cooperating with each other or competing - or both? All this is much less clear-cut. The legislation does not actually specify how it expects the infrastructure market to evolve. The EU expects TSO's to 'cooperate' in creating '10-year network development plans' (regional as well as European) but these plans do not say anything about how the market as such is supposed to take shape.

What few had probably foreseen is the acquisitions mentioned above: gas pipelines in Germany and Switzerland being taken over by the likes of Gasunie, Fluxys (the majority publicly owned Belgian TSO by now with a minority participation from a Canadian pension fund), and financial investors such as Macquarie, MEAG (the investment arm of insurance company Munich Re) and Infinity Investments (a subsidiary of the Abu Dhabi Investment Authority). A development which, to repeat, has only just started, as more and more energy companies are bound to follow the example of Shell, ExxonMobil, Eon and ENI, and put their transmission networks up for sale.
Right move
Indeed, according to Hans Coenen, Director Strategy of Gasunie, "Shell, ExxonMobil and Gasunie were the frontrunners in a development which will overtake the entire European market." It is a logical consequence, he says, of the Third Package. Companies like Shell and ExxonMobil very quickly came to the conclusion that they will not achieve a sufficient return on capital in the regulated European infrastructure market, so they decided to quit this business and put their capital to different use. "Other energy companies will come to the same conclusion", says Coenen. "And this means the infrastructure market will continue to provide new opportunities to different players: specialised infrastructure companies like ourselves and financial investors that are looking for modest, but steady rates of return."

In fact, Gasunie had to pay a price for its pioneering role. After it took over the BEB gas pipeline network for €2.1 billion, the German regulator put the squeeze on the tariffs in a way that was not expected by the then management, making it necessary for the company to write down the value of the BEB assets by a hefty €1.65 billion. The Dutch Ministry of Finance has ordered an independent investigation into this loss. (Incidentally, Shell and ExxonMobil had been owners with the Dutch State of Gasunie when it was still a vertically integrated gas company; they were bought out by the Dutch State already in 2005 when Gasunie was split into an infrastructure part and a trading company. The latter is now called GasTerra and is still jointly owned by Shell, ExxonMobil and the Dutch State.)
Coenen says, that whatever can be said about the sales price of BEB, "strategically it was the right move to make. The logic of the acquisition is still beyond question. We were the first cross-border TSO in Europe. Now others are following our example or thinking about following it."
New setting
So what is the logic behind Gasunie's expansion? It is a question regularly raised by critics, including
"A small group of international players will emerge that will call the tune - they will eventually make possible the integration of the European gas market"
some national parliamentarians, who believe a state-owned company like Gasunie should not engage in what they perceive as 'foreign adventures'. For Gasunie, however, it is a simple consequence of the way the new, independent gas infrastructure market in Europe is evolving.
Essentially three broad developments are taking place:
First, markets are liberalised: there are no more captive customers, no monopoly sellers, anyone can buy from anyone.
Second, national markets are gradually being integrated into a single market: they will no longer be organised along national lines, but on a regional or European-wide scale.
Third, companies are unbundled: supply/production and infrastructure are split up and become separate markets.
In this new setting, then, the infrastructure market acquires a dynamic of its own. We may distinguish four stages in which infrastructure operators may be expected to behave in this new situation.
Their first task is to facilitate suppliers and shippers in their domestic markets by building and operating pipelines, trading hubs and storage facilities, and in a more general way support the gas market by stimulating innovation and performing tasks that market parties do not take up.
Second, since national ('domestic') markets are disappearing, the infrastructure operators may be expected to 'follow the market' and expand beyond their national borders. In this reasoning, it would be an anomaly to have national infrastructure players catering to an international market: that would lead to inefficiencies and investment decisions based on national interests rather than taken from an international perspective.
Third, as they become internationally active, the infrastructure players increasingly come into competition with each other. They compete with each other for 'market share' in the sense that they will try to attract gas flows into their system.
Fourth, this competition tends to be followed by consolidation, as larger markets offer efficiencies of scale and allow players to invest more efficiently.
To sum up, what will happen is that, as Coenen puts it, "a small group of international players will emerge that will call the tune - they will eventually make possible the integration of the European gas market."
Value proposition
As for Gasunie, clearly the company wants to belong to this group of leaders. The company's strategy is to enlarge the reach of its existing network in the Netherlands by expanding along the main transit routes to and in North West Europe. "We see a dominant northern East-West route develop. This is where we want to be active. We are not interested in isolated pipelines. We also see a southern regional market develop, but we want to focus on the north."

One of Gasunie's main competitors at this stage is Belgian TSO Fluxys, although the two companies also cooperate with each other. Coenen notes that gas flows from Germany to the UK can go either through the Netherlands or through Belgium. "What we try to do is offer attractive tariffs and services. For this we have to optimise our system on an international scale. This is why we acquired BEB and why we participate in NordStream and in the Balgzand-Bacton pipeline from the Netherlands to the UK. In combination with the TTF trading hub that we developed, we hope to be able in this way to offer shippers the most attractive value proposition."

Given the company's international strategy, one could ask of course whether it makes sense for a company like Gasunie to remain in State hands. To what extent does Gasunie still represent Dutch interests? "It is precisely becauses of our cross-border business strategy that we can serve Dutch interests effectively", says Coenen. "The national TSO, which is responsible for balancing the system, is a subsidiary of Gasunie. And it is in the interest of the Dutch State to attract gas flows to and through the Netherlands and to the TTF. Gas transit and spot trading generate revenues of several hundred million euros a year for the State. If the company loses business to Fluxys or other competitors, those revenues will be lost."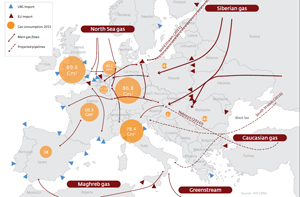 Gas flows in Europe (click to enlarge) (c) Gasunie
At the same time, Coenen says that Gasunie would like to see a private investor acquire a minority share in the company - in the same way as happened with Fluxys. Last year, Fluxys-ownerPubligas, a consortium of Belgian municipalities, sold 20% of the company's shares to Caisse de dépôt et placement du Québec, a Canadian pension fund which also holds a 33.5% stake in the Interconnector pipeline from Belgium to the UK. "If you get a private investor to participate in the company," says Coenen, "you start looking at the world in a different way. You become more market-oriented and more internationally oriented. This is definitely what we believe is good for the company and therefore for the present shareholder as well."
Coenen points to the acquisition of the pipeline network of OGE by a consortium of private investors: "In Germany involvement of private investors is fully accepted. There are 13 network operators active in Germany. They are used to competition. People there are aware that regulatory frameworks and supervisory bodies take care of safeguarding public interests adequately, the same as in the Netherlands."
As Gasunie sees it, then, the company has to expand if it is to play a significant role in the new infrastructure market. "People in Holland often wonder why we are doing this.
The point is if you don't, you will lose business. And the Dutch gas market place would lose significance - instead of showing growth, as it does so well at the moment. In the end that's not at all in the public interest." He points at the fact that Gasunie transports about 125 bcm of gas per year, while the Dutch market consumption is only around 40 bcm.
The Netherlands has of course been in the comfortable position of being a gas producer and exporter for 50 years now, but its gas resources are gradually declining. In another 20 years the country will become a net importer of gas. This is yet another reason why Gasunie wants to secure its position in the evolving infrastructure market now. Coenen: "People that limit their scope to national borders, perceive us as a monopolist. But if you have a European view you see that we are just one of the players, competing for business."
Incentives for investment
Still, not only in the Netherlands people are asking questions. At this stage no one is quite certain what the future European gas infrastructure system will look like. The biggest question probably is, how we can have an international, competitive market that is at the same time fully regulated, and still regulated predominantly on a national basis.

This is a point that is certainly worrying the strategists at Gasunie and other infrastructure companies. Since the regulators decide the tariffs, they run the show. Many in the infrastructure business complain that regulators currently do not provide sufficient incentives for investment. Gasunie knows all about this: it not only got a bloody nose in Germany, but is struggling with the Dutch regulator as well. And they are not alone. The Chairman of German gas company Wingas, Gerhard König said earlier this year that more incentives were needed to ensure sufficient investment in transport and storage capacity in Germany. "At the moment it is not attractive to invest in new lines for storage and gas-fired power plants", he said.

The bad news for the infrastructure companies is that under current EU legislation, national regulators will continue to be in charge of setting tariffs. The good news is that at the same time the EU has set in motion a process that is meant to lead to increasing harmonization of regulatory schemes. One way this is being done is by the creation of 'network codes' that all market actors, including national regulators have to adhere to. In this way, the scope for national regulators to put their stamp on their domestic market is increasingly being restricted.

Some analysts are even convinced that the internationalisation and consolidation among TSO's will be
"I believe that independent infrastructure operators will be instrumental in changing Europe's energy market"
a bigger driver of harmonisation than the netwerk codes and other regulatory measures. The Gasunie management shares that view. As Paul van Gelder, CEO of Gasunie, put it at a recent gas conference: "I believe that independent infrastructure operators will be instrumental in changing Europe's energy market."
Nevertheless, there is no getting away from the fact that is the regulators who are more and more in the lead when it comes to deciding what investments in infrastructure should be made. In the past, TSO's held 'open seasons', in which market players could indicate their interest in new pipelines. If there was sufficient interest, the TSO would build the pipeline. In future, it may be (though this is speculation) the regulators who will take over this process. Under the present legislation, shippers can actually, under certain conditions,
demand
investments from TSO's if they can make a business case for a pipeline. If the TSO is unwilling to go along, the regulator can force the TSO to make the investment.
Central planning
But Coenen is convinced that "this form of central planning", undesirable as it may be from his point of view, will not stop the infrastructure companies from finding their own place in the sun in the new market scheme. "We do more than build pipelines", he notes. "We also invest in storage, LNG-terminals, trading hubs. We see it as our task to help the gas market grow."

In fact, Gasunie and other infrastructure companies are eager to boost innovation in the gas market. For example, Gasunie, Fluxys and the Danish TSO Energinet.dk have recently pledged themselves to realize "a 100% carbon-neutral gas supply" in their networks by 2050. They will do this by helping to increase the share of biogas, by investing in so-called 'power-to-gas' systems (in which excess wind power production is converted through electrolysis into hydrogen which is then added to the gas supply) and by setting up a renewable gas certificate market, among other things.

Gasunie has also started, in partnership with other companies, a new LNG chain at its LNG Terminal in Rotterdam. This project is aimed at making available LNG as a replacement fuel for diesel in shipping and heavy road transport.

What these examples show is that our Brave New European Gas World will continue to evolve in ways
"The choice is: to stand on the sidelines or to join the game and try to grow"
that probably few had foreseen. Infastructure companies have emerged, like Gasunie, that will inevitably seize opportunities that the new market structure offers and thereby transform themselves into 'more than just TSO's'.
For a company like Gasunie, says Coenen, "ultimately the choice is: to stand on the sidelines or to join the game and try to grow. If you grow, there are risks, but if you don't, there is the greater risk that you will become marginalized altogether. Hence, our job is to develop effective strategies, and to assess the risks that come along with it very carefully, and to improve ourselves constantly on the basis of evaluations and lessons learned. This is the way to move forward and serve all our stakeholders."