Are you interested in Audio Electronics? There's a magazine for that! …and a website! …and a weekly newsletter! audioXpress magazine,
audioXpress.com
and The Audio Voice newsletter are the solution for all your audio needs!
Advancing the Evolution of Audio Technology - Since 1970
Join an enthusiastic community of readers and follow a team of award-winning and highly recognized authors from around the world. Start by Receiving our Free Newsletter The Audio Voice. Click
here
to register!
The Leading Global Audio Engineering & Development Magazine and Website
audioXpress is the information source for innovative solutions and technologies in audio electronics, acoustic, and electro-acoustic design for DIY audio enthusiasts, audio product designers, electronic engineers, and audio engineers.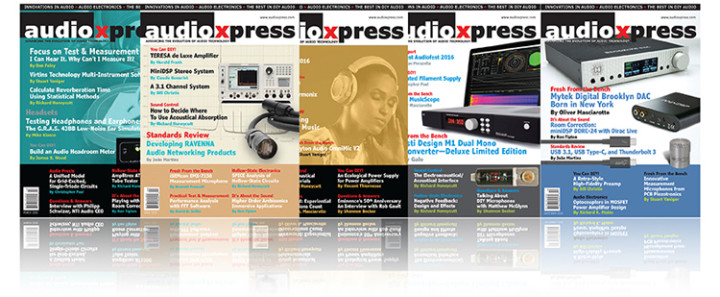 Subscribe Now and Save up to 50%!
Increasing coverage of trending topics make audioXpress a must-read! Showcasing audio innovations in audio electronics, electro-acoustics, audio networks, and software design:
• Pro, Consumer, and Commercial Audio
• Review of Technology Trends and Standards
• Test & Measurement
• Digital Audio Networks & Wireless Audio
• Acoustic and Electro-Acoustic Science
• Mobile platforms and micro-speakers
• Industry news

Together with Voice Coil, the periodical for the loudspeaker industry; Circuit Cellar, the world's source for embedded electronics engineering, and our Market Directories and Books, we excel in information for product development and the product design communities.