Over the past weeks we have presented 17 development boards from Arrow Electronics, one of world's largest electronics component distributors. This week we complete the top 20 — yes, this was only the tip of the iceberg — with three more boards. And, as you know by now, we are giving them away for free. If you would like to have a chance to get one of these boards for free, just fill in
this form
. The lucky winners will receive the board of their choice for free, no strings attached!
It is pretty amazing how much functionality semiconductor manufacturers manage to cram in modern System-on-Chips (SoCs). Integrating programmable logic and processor cores, these devices bulge at the seams so many transistors are inside. This week's development boards are all equipped with a super power SoC. All you have to do is add a cape to make them fly.
Chameleon96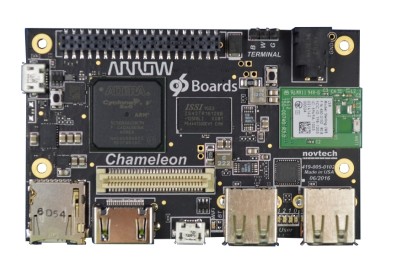 The Chameleon96 features the Intel Cyclone V SoC integrating FPGA fabric plus a dual-core ARM 32-bit Cortex-A9 at up to 800 MHz clock speed per core. It meets all the required 96Boards specifications (except for the MIPI SDI Interface) and most optional specifications. The "credit-card-sized" Chameleon96 can run Linux and offers advanced processing power, Bluetooth, Wi-Fi, and USB. Designed to be feature-rich, it has multimedia capabilities. Programming the board can be done either over JTAG, by inserting an SD card or by using the on-board USB Blaster II.
| | |
| --- | --- |
| Brain | Intel Cyclone V SE 5CSEBA6U19I7N, 110K LE, dual-core ARM Cortex-A9 |
| On-board memory | 512 MB DDR3 SDRAM, microSD card |
| Connectivity | USB, Wi-Fi a/b/g/n, Bluetooth 4.1 |
| Multimedia | HDMI (audio & video), Bluetooth audio |
| Extension | 40-pin Low Speed (LS) & 60-pin High Speed (HS) connectors, USB-A, USB 2.0 OTG |
| Programming | JTAG, microSD card, USB Blaster II |
| Power | 8-18 (12) VDC |
More information
Chameleon96:
https://www.arrow.com/en/products/chameleon96/novtech-inc
SMF2000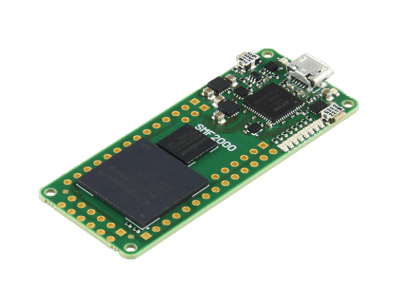 The SMF2000 is small low-cost board with a Microsemi SmartFusion2 FPGA SoC integrating an ARM Cortex-M3 core running at 166 MHz and a 12 kLUT FPGA fabric. Standard microcontroller peripherals like UART, SPI, I
2
C, and timers are available but CAN, USB and 10/100/1000 Ethernet modules have been crammed in there as well. If that is not enough, one PCIe end point is supported too.
| | |
| --- | --- |
| Brain | Microsemi SmartFusion2 FPGA SoC M2S010-VFG400, 64+80 KB eSRAM, 128 KB eNVM |
| On-board memory | 8 MB SDRAM, 8 MB Flash |
| Connectivity | USB |
| Extension | Arduino MKR connectors, PMOD, User I/O |
| Programming | JTAG, USB |
| Power | USB |
More information
SMF2000:
https://www.arrow.com/en/products/smf2000/trenz-electronic-gmbh
RSL1000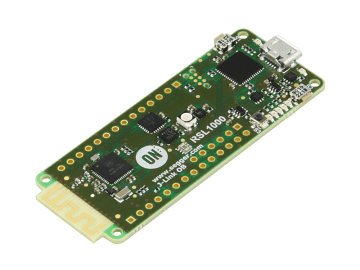 RSL1000 is a solution board for Internet of Things (IoT), based on the newest RSL10 Bluetooth 5.0 multi-protocol radio System on Chip (SoC) from ON Semiconductor. With its Arduino MKR standard form factor, it´s ideal for developing IoT Edge-Node devices, prototyping wearables or utilizing the latest features of Bluetooth 5.0.
| | |
| --- | --- |
| Brain | ON Semiconductor RSL10 multi-protocol radio SoC, ARM Cortex-M3 core + LPDSP32 core, 88 KB RAM, 384 KB Flash |
| Connectivity | USB, Bluetooth 5.0 |
| Extension | Arduino MKR connectors |
| Programming | J-Link OB |
| Power | USB |
More information
RSL1000:
https://www.arrow.com/rsl1000