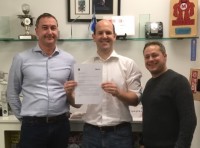 Raspberry Pi Founder Eben Upton to Speak with Elektor at electronica 2018
Raspberry Pi Founder and CEO Eben Upton will visit Elektor International Media's booth at electronica 2018 in Munich on November 13 and 14, 2018. Elektor's editorial team will also interview him at the Embedded Conference on the topic: "Raspberry Pi Goes Industrial." We'll post more details in the coming days.
Global Semiconductor IP Market Might Hit $5.7 Billion by 2024
According to a recent
report
by Allied Market Research, the global semiconductor IP market could hit $5.7 billion million by 2024, which indicates a CAGR of 7.3% from 2018 to 2024. The market was reported to be approximately $3.4 billion in 2017. Key points from the report:
Processor IP is expected to lead the global semiconductor IP market in terms of revenue.
The royalty IP source led the market in 2017.
The applications consumer electronics segment led the global semiconductor IP market in 2017.
Asia-Pacific region led in market share in 2017.
Latin America, Middle East, and Africa (LAMEA) is projected to have the highest CAGR during the period.
Some of the companies profiled in the report include: ARM, Cadence, Imagination, and Rambus
M&A Updates
Intel is acquiring eASIC, a Santa Clara, CA-based custom chip company, in a move to offer customers structured ASICs, which are well suited for applications in areas such as networking and the IoT. The acquisition is slated for completion in Q3 2018.
Xilinx, Inc. has acquired DeePhi Technology Co., which is a Beijing-based machine learning start-up. Xilinx has been an investor in DeePhi Tech since 2017. "We are thrilled to welcome DeePhi Tech to the Xilinx family and look forward to further building our leading engineering capabilities and enabling the adaptable and intelligent world," Salil Raje, EVP of Xilinx's Software and IP Products Group, said in a release.
Broadcom announced on July 11 that it is acquiring business software company CA Technologies for $18.9 billion. Some analysts and news outlets questioned the deal immediately after the announcement because Broadcom's core business is in chips, whereas CA's focus is mainframe software. Broadcom most recently made M&A news when it failed to acquire Qualcomm.