Taiwanese startup Cubiio Muherz ran a successful crowdfunding campaign last year on Indiegogo to finance a
mini desktop laser
engraver.
By campaign end, it had raised 55 times the target to fund production of the project, but there are still a few perks available on the campaign page.

Using lasers to engrave materials sounds like a pretty specialized process requiring expensive machinery with elaborate safety features. Not so with the Cubiio, this 2" cube is a desktop laser engraver.
With its fairly low-power laser it does not have all capabilities of an industrial laser, it certainly won't be able to cut steel or 5 mm thick acrylic sheet but it's designed for cutting thin card, paper and for burning designs onto certain materials as indicated in the table below.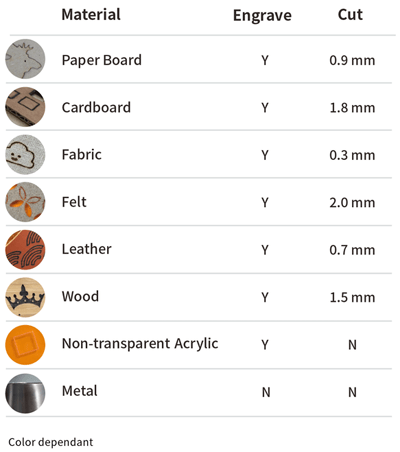 Cubiio Muherz has already raised a staggering $ 1.6 million - apparently there is a real market for it.
The Cubiio 'Basic' version is still available at $ 379 with an estimated delivery date of June 2018. There is also a version with protective housing made of acrylic (Cubiio Shield) for $ 519.
Cubiio's design incorporates a number of safety interlocks and even though the laser it employs is of limited power, it will be important to ensure it is used responsibly. There is some uncertainty whether its availability to the public is compliant with EU regulations.