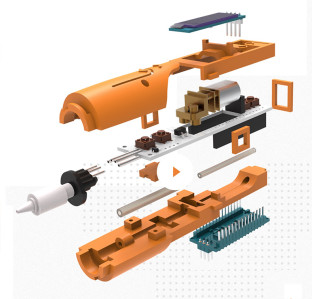 Like everyone, when you hear the term 3D printing, you probably first think of a big bulky device, and noisy with it. Not of a pen with which you can draw in three dimensions and in colours!
Recently, a small 3D printing accessory has appeared in the DIYer's arsenal. Think of the classic hot glue gun on steroids.
This power tool is to a standard 3D printer what a hand drill is to a drill press. And a lot quieter!
Or, to be more precise, it is a manual PLA filament extruder, a kind of pen that allows you to hand draw or print, in 3D.
Finishing and retouching tool
Conceived as a hand tool, light and easy to use, it's aimed at 3D printing enthusiasts who want to get hands-on, literally and figuratively, with their work. It is at once a retouching and finishing tool, and a freehand creation tool. Its size is 138 x 25 x 21 mm, and it only weighs a few tens of grams. It is powered by 5 V via a USB cable capable of supplying 1.5 A.
Modifiable and customisable at will
The model offered here is a kit you assemble yourself. The video below shows that it takes about a quarter of an hour. The main board is an Arduino Nano. This 3D Simo kit is open-source – all the design data is available free at
Github
, the printed circuit board files, the 3D printed parts and even the software. Or, to put it another way, everything is modifiable and customisable at your will.
With this kit, you get not only a pen to draw in the air, but also a gadget for personal study and experimentation. This manual PLA filament extruder also offers the opportunity to discover the whys and wherefores of tool design and programming. It is thus also an object of interest for educators and the self-taught.