While its northern neighbor is preparing for war and the end of the world as we know it, South Korea is investing in a friendlier future where the children of today develop the technology of tomorrow. To achieve this goal it was decided to rework the Arduino platform a bit to make it safer for children.
Indeed, based on the Arduino Uno, the Korean maker platform 
Kokoa fab
 has created the
Orange Board
 which is supposed to be safer for children because it is built with surface-mount technology (SMT) components where possible in order to keep the board surface smooth. More interesting in my opinion is their
Orange Board BLE
 that has disconnectable on-board Bluetooth Low Energy (BLE) thanks to an nRF51822 chip from Nordic.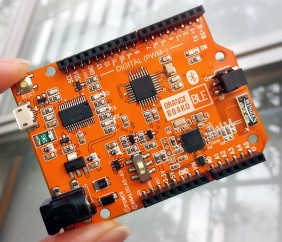 Both bright orange boards are said to be 100% Arduino Uno compatible and they are fully supported by
CodeBender
, the online Arduino development platfotm.