By Tony Dixon, Special Correspondent
-- This year's
Maker Faire UK
was its seventh incarnation since becoming the first Maker Faire outside of the United States. It's been held at Newcastle Upon Tyne in the UK since 2008. As usually some 10,000+ visitors were amazed, entertained and to use the local colonialism "gobsmacked" by what was on display. With some 300 stands, workshops and talks there were many cool things to see and be part of but here are my personal favourites.
Popular this year were drones. Despite the cool spring weekend these could be found in the open space part of the faire. They could be seen in various sizes and capabilities. Ranging from the palm of the hand sized flying machines to the much, much bigger flying camera platforms. Visitors were allowed to have try their hand at flying these remarkable flying machines under appropriate supervision of course. Check out
Takeoff RC
and
Battle of the Drones
.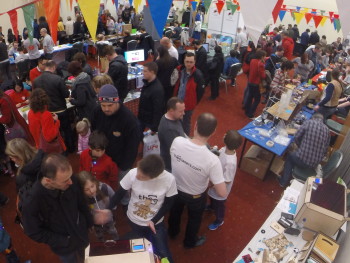 Maker Faire's and other maker events around the world have been vital to the promotion and rapid adoption of affordable 3D printing. 3D printers are now seen as a positive disruptive technology bringing the prospect of rapid prototyping and low volume, low cost part manufacture to many. This year Maker Faire UK had its fair share of 3D printers on display including an impressive stand by Ultimaker GB.