There are people that do printed circuit board (PCB) design and then there are people who do PCB
Design
. Most of the designers that belong to the first category are satisfied when they have managed to place the components and route all the interconnecting signals in the space that they were allowed to use. Some of these engineers also try to achieve some elegance and beauty in their work, but, unfortunately, they represent a minority. Nobody cares anyway, because most of the time the PCB is hidden away at the bottom of an enclosure (that attracts all the attention).
The second category of PCB designers is a very select group of people and to be honest I can think of only one person who tries to make a living out of it. Indeed,
Saar Drimer
of
Boldport
takes PCB
Design
so serious that he has developped his own tools suite
PCBmodE
to allow him to create pieces of gerber art instead of plain grid-snapped circuit boards. That his work is special proves the publication of a series of photos showing his designs in the December edition of the well-known fashion magazine
Marie Claire US
. The pictures taken by renowned still-life photographer
Mitch Feinberg
 provide a classy background for luxury jewelry.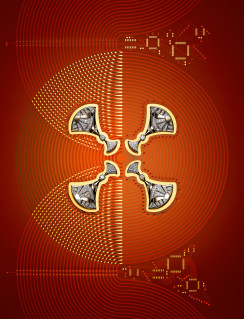 If someone had told me that one day I would mention Marie Claire and PCB design in one article... However, this is not the first time that PCB design and fashion meet,
the Elektor Platino board was presented fashion style
.