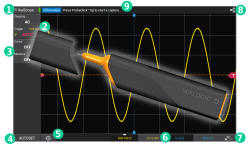 Would you have any (good) use of a wireless oscilloscope ready to make uncompromised measurements, right out of your pocket, anywhere, anytime?
We all would. Especially if unlike most scopes on the market, it would define a new way of measuring signals, where ergonomics plays a central role. Certainly if it works with Windows, Mac, and Linux desktop computers as well as with tablets or smartphones iOS and Android. Definitely if powerful application software can be
downloaded
freely.
No bulky power cords, no cables
With 30 MHz bandwidth, 200 MSa/s sampling rate and its input range of +/–40 V
pp
, IkaScope fits perfectly in your hand and intelligently interacts with you. It transfers measured signals over high speed wifi connection. It will remember your home and office access points and connect to them instantly. No local network? No problems, IkaScope will create one on the go.