CES 2019 didn't disappoint. The event drew more than 180,000 attendees and showcased an every-expanding range of technologies, from audio to automotive to virtual reality. In
Part 1 of this series
, we covered a few of the most promising startups that exhibited at CES. This article covers several of the other companies that stood out Eureka Park, which was the high-traffic startup area located in the Sands Convention Center.
Adok
Paris-based
Adok
develops technology that can turn any surface into an interactive touch screen display. At CES 2019, the company presented its smart projector and meeting assistant system. The fully autonomous Adok projector runs Windows 10 and enables you to access business-critical apps, such as Trello and Office 365.
In addition to the projector, the company's software product, called Adok Meetings, enables users to plan, conduct, and debrief meetings. According to Adok's Cofounder and CEO Paul Peretie, customers can implement these solutions to save valuable work hours by simplifying the meeting process, from planning to follow-up.
"In six to 12 months, we want to really expand and distribute massively," Peretie said. "If we have 1,000 clients using our products saving time in meetings — 5 minutes at a time — at the end of the year that will be a huge amount of time saved."
The Adok projector is available on the company's
website
and will soon be available via distributors in Europe and United States.
Boarding Ring
The Ollioules, France-based Boarding Ring team is tackling the growing problem of virtual reality motion sickness. The company's Boarding VAR device can be adapted to any VR headset to prevent "sensorial conflict," which causes nausea, dizziness, and headaches.
"We developed little add-ons that could be easily implemented in all kinds of virtual reality headsets," said Cofounder and CMO Marilous Suc at the company's CES 2019 booth. "It sends you some light signals that are consistent with your body movement, so you will avoid the conflict between your inner ear and your peripheral vision."
The device is slated to hit the market at the end of 2019. "For the moment we are in the pre-industrialization step and this is the prototype," Suc said, referring to the demo unit on display at CES 2019.
The company, which is currently searching for funding and working on R&D, also develops other products to address motion sickness, Suc said. Additional details are posted at
www.boardingring.com
.
BrainCreators
Amsterdam-based BrainCreators was launched by artificial intelligence (AI) experts in 2012. Today, the company helps large enterprises to roll out their AI strategies in a variety of verticals, including telecommunications, insurance, and manufacturing. For example, BrainCreators assists manufacturers in implementing automated quality control and predictive maintenance solutions.
"What we do is all software, so it is all machine learning," said Cofounder and CEO Jasper Wognum at the company's CES 2019 booth. "But we need hardware at some point. We need GPUs from either Nvidia or IBM, which we partner with, and we need cameras and sometimes sensors or other devices, and then we work with partners who provide those."
BrainCreators offers its customers a range of services, including training, implementation, and deployment. Brain Matter is the company's data labeling platform, which it licenses to enterprise customers. Current customers include large internationals such as DHL and well-funded startups working in a variety of areas, such as brain scan analysis, Wognum said.
Business will likely increase for BrainCreators as AI becomes more popular. "AI is pretty new now, so we need to explain ourselves a lot and explain AI a lot. And I see this changing rapidly," Wognum said. "So, we will shift more towards people buying our Brain Matter platform and requesting consultancy on top than people requesting consultancy and us selling Brain Matter to them."
You can learn more about the company's technology at
www.braincreators.com
.
Brilliant Sole
Founded in the summer of 2016, Wilmington, NC-based Brilliant Sole is an innovative startup focused on merging footwear and virtual reality (VR). The idea is to put your feet into VR.
At CES 2019, Brilliant Sole's Founder and CEO Jeff Guard said the company is around five to six months away from releasing a dev kit that will enable developers to work with the technology. Target customers include VR developers and video gamer creators. Brilliant Sole currently has proven hardware and multiple SDKs that work.
"We're getting ready to launch a crowdfunding campaign through Indiegogo in the next few months. And if that's successful, we'll be able to deliver a development kit sometime late summer," Guard said.
In addition to finding brand partners and investors interested hardware, the company's goal is to build its developer community. To do so, they offer a demo that shows "someone being able to control movement in virtual reality with their feet" and receive haptic feedback, Guard said.
VR enthusiasts can learn more at
www.brilliantsole.com
.
Elkrem
Elkrem is a Cairo, Egypt-based startup that develops solutions for designers interested in building IoT products that communicate with decentralized technologies such as Ethereum and Bitcoin. At CES 2019, the company presented a Blockchain IoT Development Board – which is currently unnamed — that enables designers to create and deploy IoT devices securely without having to rely on servers.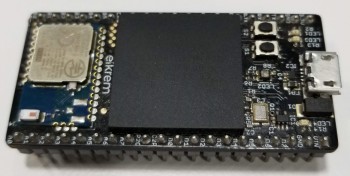 "The board has the simplicity of an Arduino, the power of a Raspberry Pi, and the security of hardware crypto wallet," CEO Amr Saleh said of the board, which will likely cost developers less than $100 once it hits the market.
Saleh anticipates that the board will be available in Q2 2019 after the company is sure about the production timeline. Visit
www.elkrem.io
for updates.
German Autolabs
Berlin-based German Autolabs is a startup focused on building AI- and voice-powered assistance systems for the mobility market. At CES 2019, the company showcased Chris (€299), which is an intelligent, connected mobile device that enables drivers to easily and safely communicate (via phone, messages, or emails), navigate, and play music using speech and gesture technology. Updates are made completely through the app.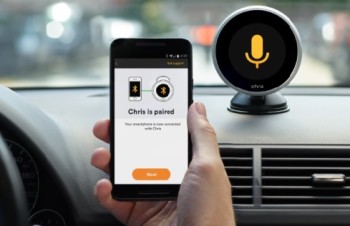 "We dub it the first digital assistant specifically made for drivers," said Daniel Mieves, Head of Marketing at German Auto Labs. "So, it is a retrofit device which goes into your windscreen just like a GPS. It connects to your smartphone by Bluetooth and then you can operate all the apps and services that matter while driving purely by voice, voice assistant, and gesture."
Although Chris speaks and understands German and English, it is currently available only in Europe. There are currently around 2,000 units on the road. Mieves said the company would like to see a five-digit number of devices on European streets within the next year and perhaps launch a device in the United States at CES 2020.
Visit
www.germanautolabs.com
for more details.
Idein
Tokyo-based Idein implements machine learning to develop products that connect people and things. At CES 2019, the company demonstrated its Actcast IoT platform service, which "links events and data in the physical world to the Web with deep learning inference on the edge devices."
"We have the technology to run a very large-scale deep learning interference on Raspberry Pi," Founder and CEO Koichi Nakamura said about the platform, which enables users to detect information on the edge and send only summarized data if it is necessary. Thus, the solution can significantly reduce network traffic and server computing costs.
Nakamura explained that deep learning is intended to replace human participation. The applications for Idein's solutions include traffic monitoring, in-store customer tracking, and factory production monitoring.
"We don't create the actual solutions for end users or end customers, but we provide this fundamental technology to solution vendors," he added.
The company intends to release a production version of Actcast within the next several months. Head over to
https://idein.jp
for additional information.
Petronics
Petronics's Android- and iOS-compatible Mousr is an interactive robotic toy for cats and their owners. The innovative system was developed to act like a real mouse and to react to a cat's movements.
The product was developed a few years ago by a group of graduate students in electrical engineering at the University of Illinois. According to Cofounder Michael Friedman, the team decided to combine its interest in robotics with its love for cats.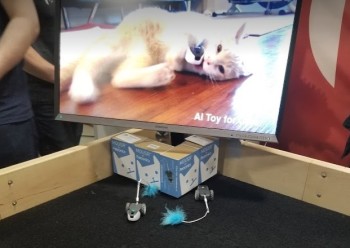 "We were really interested in a doing a robot that would come out now and not a $40,000 robot that you see at CES but never actually makes it to the market," Friedman said at the company's CES 2019 booth.
The process took about three years, and the team launched Petronics and launched Mousr on Kickstarter in 2014. In 2018, the company focused on perfecting Mousr's hardware and software, Friedman said.
"2019 will be about expanding sales," he noted. Most of the company's sales right now are in the United States, but the European Union is a target market.
You can purchase Mousr at
www.petronics.io
. It ships to the United States, European Union, Australia, and a few other countries. It is also available on Amazon in the United States.
Strawbees
Gothenburg, Sweden-based Strawbees develops STEM prototyping kits for makers of all ages. The company offers a variety of kits, including an Inventor Kit (comprising straws, connectors, and 21 maker projects), a Coding & Robotics Kit (comprising 200 pieces and electronic components), and more.
Since its founding in 2015, Strawbees has gained international recognition for its fun, engaging prototyping kits. Its products, which have been featured widely via major media outlets, are used for both education and play by users as young as preschool students.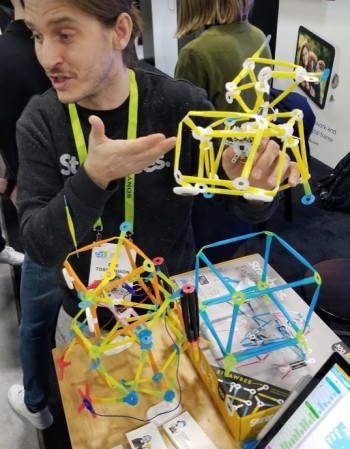 "We have done all this with zero marketing," said Strawbees Founder and Toy Maker Erik Thorstensson at the company's CES 2019 booth. "By only organic growth we are now in 40,000 schools around the planet."
The company intends to focus even more in the next year on getting its kits into US schools, Thorstensson said. "Kids love it, teachers love it, and it's valid from preschool to the university level."
Visit
www.strawbees.com
for more information about the various prototyping kits.
Viewwer
Virtual reality (VR) technology is poised to revolutionize the real estate industry. Mulhouse, France-based Viewwer has developed a platform to create and publish real estate virtual tours with a smartphone. By creating VR tours, the startup aims to accelerate the sale of new homes. With a smartphone and an app, users can quickly and easily create a 3D model of a property.
Typically, when you want to rent, buy, or sell, you go on a web platform that includes pictures and text about properties. Viewwer intends to improve the experience by enabling potential customers to immerse themselves in properties through VR.
Viewwer has clear goals for the next several months. "We want to finish and to launch the app," said CEO Stéphane Saidani at the company's CES 2019 booth. "And after we want to promote in France and try to penetrate the US market."
Saidani said the application should be available in March 2019. Visit
www.gizmo-experience.com
for additional details about Viewwer's application and services.
Zimple 3D
3D printing technology is revolutionizing a wide variety of industries, from manufacturing to automotive. Based in the south of France, Zimple 3D develops 3D printing upgrades and offers a 3D design search engine, which it launched in early January 2019.
In 2017, the company introduced Zimpure, which is a 3D printer air purifier that vacuums away nanoparticles and toxic fumes. The quiet purifier is compatible with several 3D printer models.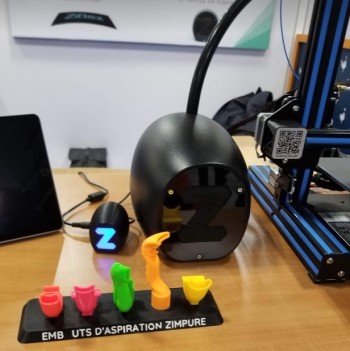 In 2018, Zimple 3D introduced a new product called Ziflex, which is a thin build plate that makes removing a 3D-printed part safe and easy. Thin, magnetic, and flexible, the build plate adheres strongly to your 3D printer's bed but remains easy to remove once a print is ready.
"In six months to a year, we would like to launch a new product and have more and more users on our 3D search engine," said Founder and CEO Nicolas Roux at CES 2019. "Our artificial intelligence algorithm will learn from these users and will improve the results while they are using it."
Visit
www.zimple3d.com
for additional information and to begin using the search engine to find a 3D model.
Zoi Meet
Zoi Meet offers an AI-powered translation solution for international meetings. The technology translates audio in real time and can display subtitles on any device. Users can search transcripts, take notes, compile reports, and more.
According to Cofounder Kevin Oranje, a monthly subscription will be available in March 2019. Users will be able to translate and store their transcriptions. A beta version is available at
www.zoimeet.jp
.
Oranje also shared information about Volareo, which is described as "the world's first open-source and decentralized smart speaker to explore the exploding world of voice commerce." There are two versions of the speaker, a consumer version and business version with business-specific apps.
"We're first going to go into the consumer market and make sure that we tackle that industry and get as much developers into our community as well. That's what we did from the very start," Oranje said at CES 2019. "We have a lot of people from the Blockchain community who are very much open source-minded, and they saw a huge interest in having this application or this hardware so that they could program onto it. And that's what we wanted."
Oranje said the goal for the next six to 12 months is to get the product in the hands of more developers. To do so, they will develop a platform for developers to log in start working on applications. Production for the speaker wills start in February 2019. Visit
https://volareo.live/
for details about Volareo. Head to
www.zoimeet.com
for details and updates about Zoi Meet.