Top Innovators across Europe recently met at "Top 50 Who's Who: Innovation 4.0" in Munich, Germany, to discuss ways to bridge the gap between hardware, AI, IoT, and software.
As a part of the Bits & Pretzels Start-Up Night, t
he event — which was sponsored by
Sourceability
,
TechFouners
,
Brinc
,
Invest in Bavaria
, and
Elektor
— enabled start-up founders, engineers, and innovators to exchange business cards, enjoy drinks, and discuss the future of technology and entrepreneurship. A fine blend of sharing and collaboration made the event special with deep insights into the future of technology and entrepreneurship!
Let's review some of the presentations and highlights from the evening.
Start-Up Potential in Europe and Beyond
Jens Gamperl, CEO Sourceability, addressed the hot topics of AI, machine learning, blockchain, autonomous driving, and smart cities. He explained that the US appears to have more options as it relates to financing, an abundance of emerging innovative tech solutions, and experiences with rapid growth. However, he believes Europe's ability to foresee the long game is its unique selling proposition (USP).

"In addition, Europe's highly educated talent pool enables global competitiveness and fuels its capability to build sustainable business models," Gamperl said.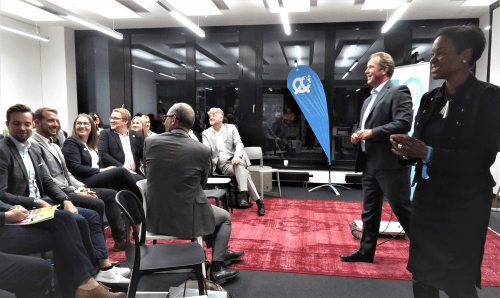 Jewell Sparks (Global Director for innovation & strategic partnerships, Surcle.io) shared her views about both Europe and the US being great starting grounds for founders. Corporates are engaging heavily with startups in the areas of Artificial Intelligence, Machine Learning and Augmented Analytics in Europe as per Jewell's observation. She also talked about 'diversity and inclusion' being a big topic as it relates to innovation in the US. Also, Venture capital firms, accelerator programs, and organizations are holding their leadership teams accountable for both diversity and innovative technology integration and scalability, said Jewell.
Heiko Huber (Managing Director for TechFounders UnternehmerTUM Projekt GmbH) helps start-ups with networking activities. In his talk, he said the key benefit for participants at such events is to meet new people who can help with projects and business development. "This can be done by exchanging experiences, by looking at one's own ideas from a different angle (e.g. hints on a use case of a start-up idea that has not yet been considered) or by initiating a cooperation or an investment," he said.
Lisa Hyna (Marketing & public relations
,
gate - Garching Technology and Start-up Centre GmbH
) said "The participants were able to create an interesting mix of local and international networkers. I was able to derive the greatest benefit from exploring possible co-operations, which gave us as a start-up centre fresh impetus for expanding our services."
Bernd Wunderlich (Digital Project Leader,
Gartner
) gave an interesting presentation on the topic of securing a new foundation for digital business. In addition to talking about digital statistics, he described the results from a survey that Gartner conducted among the DACH region CEOs. The survey covered the 10 most important future business activities, and as per the latest survey, digital initiatives ranked the highest. It was followed by the focus on activities concerned with revenue and business growth. It is interesting to note that digitalization is the top priority for the decision-makers and 49% have already changed their business model. Out of the 49%, 28% are using the said digitalization to scale the business whereas 51% of the total haven't yet started the process of digitalization.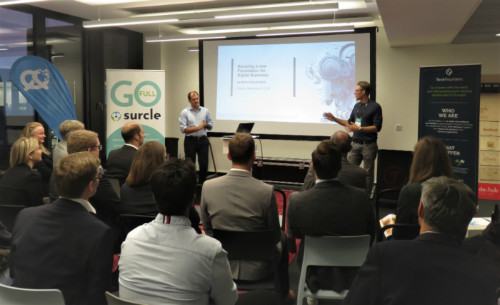 Innovator Presentations
Six companies had an opportunity to present their products and solutions at the "Top 50 Who's Who" event. The technologies ranged from wearables to AI.
Teiimo - Markus Strecker, Founder & CEO: With the aim of integrating electronics and textile, Teiimo is working in the field of conformable electronics. Mr. Strecker presented their new medical sensor shirt at the event which monitors patient's heart data in real time and talked about its benefits in the healthcare sector. Note: Teiimo won First Prize in the electronica Fast Forward 2018 competition.)
Franck.AI - Isabell Franck, Founder & Managing Director: In the era of Industry 4.0 & Artificial Intelligence, Franck.AI is determined to provide innovative software solutions. They are focused on combining machine learning and customer-specific expert knowledge to develop software solutions to optimize production and development activities
Smartfurniture - Joerg Sahlmann, Co-Founder: As the name suggests, Smartfurniture combines furniture with electronics and software to develop smart work and leisure equipment. The company is focused on four key elements when it comes to making smart furniture: design, function, quality, and price.
Swap Language - Nicholas Møller Walsted, CEO: With an innovative approach to language learning, Swap Language provides the opportunity to learn a new language with a native speaker of the language. With a simple yet impactful solution, the company helps people find a native speaker of the language they want to learn in their city and gives them the opportunity to teach their own native language in return.
Valuer.ai - Signe Andersen, Regional Manager, Germany: Using crowdsourcing and artificial intelligence, Valuer.ai helps accelerators and corporations to find startup with high potential that match their strategic innovation requirements
Rydies - Andreas Nelskamp, Managing Director: Rydies provide micro-mobility solutions like bicycles, e-bikes, and other rideables in the age of rising traffic and people spending more time on the road and looking for parking spaces. The company focuses on providing a stress-free travel experience for short distances while battling against increasing pollution from car fumes.
Future Opportunities
The "Top 50 Who's Who" event in Munich was yet another opportunity for tech innovators to gain the support they deserve. Apart from being a useful and reliable resource to the electronics engineers' community from more than 80 countries, Elektor strongly believes in promoting innovation and entrepreneurship. Through the
Elektor Labs
platform and global start-up competitions (e.g.,
productronica Fast Forward
), Elektor is continuously empowering start-up innovation.
---
RESOURCES
COLLABORATORS