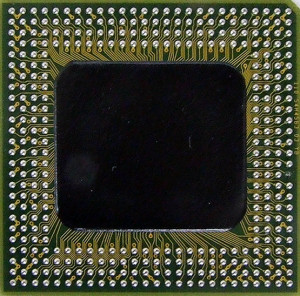 Hot air, infrared, hot plate...
A few months ago, a
video
on soldering SMDs presented in the columns aroused considerable interest. To follow it up with the converse operation, desoldering, I kept a lookout for something new ** on the subject. An interesting faultfinding video, for example, with these damned Surface Mounted Devices (SMDs)! Some believe they are impossible to handle without specialised tools. For others, replacing a BGA has become an everyday activity. By BGA, we mean those chips which don't have pins, instead having contact formed by a matrix of numerous and tiny solder balls (Ball Grid Array).
A star of live faultfinding on YouTube
The point of presenting here videos of (de)soldering is to encourage the practice, conquer the fear of the unknown, and close the gap between the keen electronics enthusiast and those miniature components . And in my search, I stumbled, as so often happens when exploring the corners of YouTube dedicated to electronics, on the channel of Mr Louis Rossman. A gentleman is the least we can say of him. This star of the binocular microscope is above all chatty, sometimes rogue and often ferocious. Star of live faultfinding on YouTube, he stiches together longer and longer videos. And doesn't bother to shorten them because, he says, his followers prefer long ones. If you don't closely follow his words, there is not much to draw from his images alone (which are nevertheless of excellent quality). The effort put in by the patient listener will be well rewarded. There is a lot you can learn. For others, there is always fast-forward.
Thermal Camera or alcohol: you choose
Why the video below rather than another? Firstly due to the recent vogue for cheap thermal cameras, held by many to be above other tools for repairs. According to their adherents, they can allow easy repairs for short circuits, even on a complex PCB. The thermal camera shows up zones of heating and thus of probable short-circuits. But is the resolution of a thermal image sufficient? Here's what Mr Rossman thinks. The other reason for this choice is found in the video. It compares the results obtained on the same faulty circuit, but this time profiting from the volatility of alcohol, an old faultfinding trick!
If the subject of faultfinding on BGAs interests you, I also recommend the video that the same author dedicates to
replacement of graphics processors
(GPUs). Their excessive and prolonged heat generation ends up with the deterioration of their connections. His advice is that in most cases, it's like putting a plaster on a wooden leg because, he affirms forcefully, it's the internal connections (bonds) of the chip which are damaged at least as much as the external soldering.
Call
**
You can improve these instalments by giving me your suggestions for videos. If you see an interesting video on or allied to electronics,
send me a message attaching the YouTube link and a few words outlining why you would like to share it with Elektor readers. Thanks.