Wireless is supposed to be cool. We all love Wi-Fi, Bluetooth, Zigbee, radio and television, mobile phones and various gadgets and instruments freed from any cable, as long as we don't worry about the electromagnetic pollution caused. Are they harmful for living organisms or not, and if so, to what extent?
TAPIR is assembled from 7 small PCBs
Does this worry you? If you want to learn how dirty the ether really is, then the
E-smog detector
is what you need. Also known as
Elektor Tapir
* this tiny electronic device with an antenna comes as a complete kit including two types of electromagnetic detectors and earphones. Sturdy and easy to build thanks to a comprehensive
Construction Guide
the three-dimensional assembly will sniff electro smog of almost any frequency.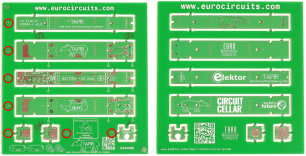 The TAPIR is assembled from seven small PCBs supplied as a PCB panel. They collectively form the enclosure for the circuit. Each of these PCBs is numbered:
Top piece
Side piece with switch
Bottom piece with components
Side piece with headset connector
Negative battery connection
Positive battery connection
End piece
Required Items
The following items are required for the proper assembly of this kit:
The TAPIR kit
A soldering iron with a fine tip
Tweezers for placing small SMDs on the board
Resin-core solder with a maximum diameter of 0.5 mm (0.02 inch)
A small drill bit for countersinking the cover screws
One AAA battery
A length of heat-shrink tubing or electrical tape
If necessary, a magnifying glass for checking component markings and solder joints
A coping saw and a file or Dremel tool as necessary
Clamping tweezers as necessary
* ​
A tapir is a large browsing mammal with a short, prehensile snout.