The aim of Elektor is to supply innovative information to professionals looking for education, entertainment and inspiration in the field of electronics, both within and beyond their professional activities. Elektor magazine provides ideas and information about new designs and developments as a source of inspiration for electronics designers at the professional level.
The editorial content of the magazine addresses the following topics: microcontroller systems, computer technology, audio and video technology, power supplies, wireless data communications, optoelectronics, CAD, circuit boards, engineering software and high-frequency technology.
The main emphasis is always on practical applications. Naturally, we also give extensive attention to the most important tools for electronics design, such as design and simulation software, test and measurement equipment, laboratory power supplies, microcontrollers and sensors.
There are regular feature sections on the subjects of trade fairs, design tips, new developments and background information related to the electronics market.
A reader survey showed that:
​90% of our readers save all their issues - your advertising in Elektor has a very long shelf life.
38% spend almost 2 hours reading the magazine and 40% spend over 2 hours - a direct reflection of the huge reader interest in the magazine content.
99% study the advertisements - your advertisement has a significant chance of being read and sales generated for your products.
48% are employed in either R&D or Production - the workplace of the Electronics Engineer.
50% work in organisations with over 100 employees - these are the companies that issue the largest purchases orders and contracts.
87% are involved in the purchasing decision making within their workplace - a clear indiciation that our readers are highly qualified, professional Electronics Engineers.
Information from our 2016 survey can be found at
www.elektor.com/survey
Need more information? Contact us now!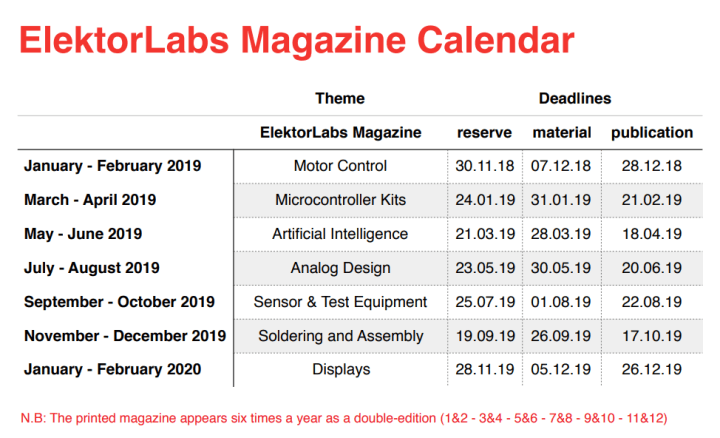 Contact:
Elektor International Media
Margriet Debeij
margriet.debeij@eimworld.com
T
+49 (0)241 955 09 174
M
+49 (170) 5505396