Frequent questions & answers about the
Voltera V-One PCB printer & reflow solder station

The Voltera V-One can print circuit tracks, apply solder paste, and even solder the components in a reflow process.
---
Q: What are the average costs of consumables (ink and SMD paste and replacement tips)?
A:
You need:
1 x Conductive ink cartridge
$99.99
*
1 piece supplied with the V-One
1 x Solderpaste cartridge
$49.99
*
1 piece supplied with the V-One
1 x pack of 4 nozzles
$49.99
*
1 piece supplied with the V-One
-------------------------------------------------------
Total
$199.97
*
prices subject to change | consumables will soon be available in the Elektor Store
Through-hole parts, wires and other components can be soldered manually using "Solder Wire" "ChipQuick Flux". The temperature of the soldering iron should never exceed 190°C.
---
Q: How long does the ink last? How many of the GPS boards shown in the demo video could be produced with one filling?
A:
The V-One is rather economical with all consumables. The second question cannot be answered at this time since the video doesn't show the dimensions of the board. Consumption varies widely with the board size, the number and width of the tracks, the number and size of larger ground planes, etc. A single ink cartridge will allow you to print up to 85
Hello World
boards. This also equates to 100 m of conductive trace at 8 mil width, or 200 cm
2
of solid pour.
---
Q: How to store ink and SMD paste? What storage time is possible for ink and SMD solder paste?
A: Ink and paste cartridges must be stored in a refrigerator (4-10°C / 40-50°F) to ensure maximum shelf life (approx. 6 to 12 months).
---
Q: Is periodic maintenance required on the printer?
A: For accurate probe calibration, before a baking or reflow process starts, the sensors should always be free of dust and the heated bed free of wet ink or other substances. Protection of the nozzles and the probe are part of routine maintenance.
---
Q: What substrates can be used?
If your substrate is able to withstand 200ºC for 30 minutes, then you'll probably be able to print on it. That temperature is required for the curing process for the conductive ink used with the V-One. FR4, glass and ceramics have been used for rigid substrates. Flex substrates can be used too, specifically polyimide (kapton) films.

---
Q: Does the Voltera V-One carry the European CE marking?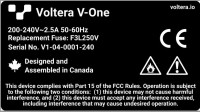 Yes. Furthermore the V-One succesfully underwent the EN 61326-1:2013 certification tests (Electrical equipment for measurement, control and laboratory use EMC requirements) as well as the IEC 61010-1 test (Safety requirements for electrical equipment for measurement, control and lab use).