Aviation has most definitely jumped on the eco bandwagon, judging by the amount of press releases I bump into lately. I consider that good news of course. Two months ago I wrote a little piece on
Boieng working together with MIT
on a pretty cool project: the 'Double Bubble', a highly fuel efficient airplane. And when Boieng moves, it never takes long before we hear something of Airbus.
And what we hear is good news: Airbus unveiled its aircraft of the future at the 
Farnborough Airshow
in the UK just a few days ago. The concept aircraft is more fuel efficient, boasts advanced interior systems, and, best of all, it's quieter.
Some of the dream plane's more fanciful features include holographic projections of virtual decors, so that each passenger could transform his or her area into a workspace, a bedroom, or a Zen 
garden
, and walls and floors that can be made invisible, allowing better views of the landscape below.
Both Airbus and Boieng are expecting to introduce their future aircrafts around 2030.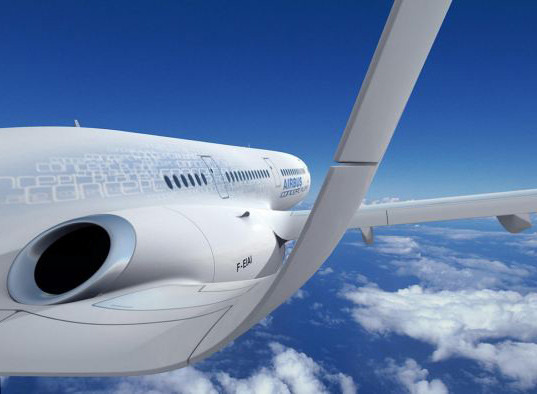 Read more: 
Airbus Unveils Fuel-Efficient Aircraft of the Future | Inhabitat - Green Design Will Save the World