Interview Urban Rusnák, Secretary-General of the Energy Charter
"The Energy Charter Treaty is entering a crucial phase"
The next few years are crucial for the future of the Energy Charter Treaty. If it does not manage to expand its constituency and to adapt its rules to a changing world, it risks remaining a regional player in Eurasia, says Urban Rusnák, the new Secretary-General of the Energy Charter Secretariat, in an interview with EER. According to Rusnák, who started his job on the 1st of January this year, the Energy Charter Treaty is unique in that provides a legally binding set of rules for international energy investments. "At a time when the energy sector is faced with the need to invest huge amounts of capital, the Energy Charter Treaty is uniquely suited to reduce risk premiums and supply the framework for global energy governance that the world so badly needs."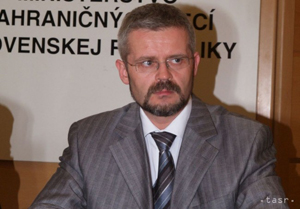 Urban Rusnák (c) TASR/Miroslav Košírer
The story of how Urban Rusnák came to be involved in the Energy Charter Treaty (ECT) says a lot about the current status of this unique international agreement. Rusnák, who graduated as engineer from the Moscow Institute of Oil and Gas in the turbulent year 1990, was the Slovak ambassador to Ukraine from 2005-2009, at the height of the Ukrainian-Russian gas disputes, which directly affected his home country Slovakia. "It was very unexpected that this could happen after 35 or 40 years of reliable deliveries", he says.

Slovakia was faced with the fact that it had no legally binding agreement with Ukraine for the delivery of gas. Rusnák: "We had a contract with Russia, not with Ukraine. They had no obligation to supply us." However, Slovakia did have something it could have fallen back on, namely the Energy Charter Treaty, which has been signed and ratified by both Slovakia and Ukraine. But the ECT was not used, neither by Slovakia nor by any other country affected by the gas dispute. "There were some appeals from the Energy Charter Secretariat", says Rusnák, "but they were not heeded. I am not sure exactly why."

The incident did arouse his interest in the ECT and when the position of Secretary-General became available, he applied, with success. With his energy and international diplomatic background (he received his PhD in Ankara, lectured in Kiev and speaks seven languages, including Russian, Turkish, Ukrainian and Hungarian), Rusnák seems ideally suited for the job. But he is aware he does not have an easy task ahead of him.
Firm bonds
The ECT, Rusnák agrees, is in a difficult, if not crucial phase of its development. The Energy Charter – the political declaration that forms the foundation of the Energy Charter Process and exists since 1991 – was signed by 58 countries plus the EU and Euratom. However, 7 of those countries, including most notably the US and Canada, did not sign the legally binding Energy Charter Treaty, which was adopted three years later, in 1994, and entered into force in 1998. Moreover, 5 countries that did sign the ECT did not subsequently ratify it, including Norway, Australia and crucially Russia.

Thus the ECT was never able to perform properly one of the tasks it was originally set up for, namely to create firm new legal bonds between Europe and post-Soviet Russia that would have provided investment protection and transit guarantees for western companies wanting to deal with Russia – and vice versa. Still, it probably did contribute to building confidence and promoting cooperation between the former antagonists.

And it did meet with success in other ways. The ECT managed to get on board all the major countries in the Caucasus and Central Asia, including the former Soviet Republics of Azerbaijan, Georgia, Kazakhstan and Turkmenistan, as well as Turkey. It thereby was instrumental in creating positive investment conditions in those countries, many of whom are important oil and gas producers or, as in the case of Turkey, transit countries. This has made the ECT a crucial building block in the development of the Southern Corridor, says Rusnák.

The Treaty is also extending its reach into the Middle East and South East Asia: Pakistan and Afghanistan are in the process of becoming members (important for the development of the Trans-Afghanistan or TAPI pipeline, which is to bring gas from Turkmenistan through Afghanistan and into Pakistan and India), and Iraq has shown interest in joining the ECT. "So you see", says Rusnák, "the ECT is alive."

In addition, the ECT is increasingly being successful in helping to solve international energy disputes peacefully. The number of arbitration cases based on the ECT is growing, says Rusnák. Up to now, at least 32 such cases have taken place (they are listed on the website of the ECT), many of them
"Policymakers are not always aware that they have an obligation under the ECT to guarantee a stable framework for investment"
between EU-based investors and non-EU states. Companies cannot bring cases against their own government, only against foreign governments, but Rusnák points out that they have more options than is often realized. For example, Vattenfall instigated a case against the German government in connection with environmental permits for a coal-fired power plant (it was settled out of court). Rusnák: "Policymakers are not always aware that they have an obligation under the ECT to guarantee a stable framework for investment." This goes for the EU as well. "EU policies are changing very quickly."
Crucial task
But the ECT is faced with two major challenges, says Rusnák. One is the way in which it tends to be perceived by the outside world. "The prevailing idea is that the ECT was created by the EU for dealing with Russia in the post-Cold War era. And since Russia did not ratify the Treaty in the end, this means the ECT is a failure, in this view." However, says the new Secretary-General, this is a misconception. "The ECT was not set up to manage the energy relations between the EU and Russia, but as a legally binding framework to create better investment conditions in international energy trade, to provide investment protection and promote international energy cooperation. Of course it was created at a time when the Soviet Union collapsed, so this history is part of our DNA. But that's 20 years ago, we live in a different age now. Russia is not a weak state anymore."

Other conditions in the energy market have changed as well, Rusnák points out. Energy prices have gone up, investment flows are moving more and more in bilateral directions rather than just from West to East, new economies are emerging. This bears on the second challenge the ECT is facing: its statutes (protocols, amendments) must be adapted to this new world. "Any organization has to adapt to changing circumstances", says Rusnák. "But the ECT could not do this as long as several countries were still engaged in the ratification process. After Russia decided not to ratify, modernization of the Energy Charter process was begun in 2009." What this modernization will look like is not clear yet. "This is one of the two main tasks I have set myself as Secretary-General: to get our members to agree on the substance of the modernization process."

The other crucial task Rusnák has set for himself is what he calls to "consolidate" the ECT (i.e. get all
"The ECT was not set up to manage the energy relations between the EU and Russia"
members to ratify it) and then to "enlarge the constituency". So how is he trying to persuade the five countries that have signed but not ratified to change their minds? "This is basic. They signed the Treaty because they believed it was in their interest. So we have to try and get them to perceive the ECT again in a positive way, to show how it can benefit them. We do not tell countries how they should organize their economic system."
As to "enlarging the constituency", Rusnák has strong arguments to convince countries that are only observers now, such as China, to come on board. "Everyone knows that we are entering a new energy era", he says, "in which huge new capital investments have to be made. Companies and countries are looking to exploit new and unconventional sources of energy in ever harsher conditions. This adds to costs and risks. The ECT is the ideal instrument to help reduce risk premiums in the market. It can provide a solid framework for investments."
Rusnák notes that "everybody these days is talking about the need for global governance, certainly in the energy sector. Well, the ECT provides a set of rules that can be used as a basis for global energy governance. The more countries adhere to these rules, the better." He notes that the World Trade Organization (WTO), which deals with the international regulation of trade, covers only some aspects of energy. "What the ECT does is use the WTO approach to energy trade, especially trade through fixed infrastructure. In this sense we are complementary to the WTO."
DNA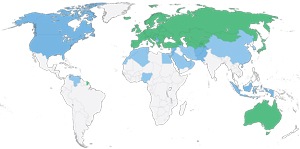 Green countries are signatories to the Energy Charter Treaty, the blue countries are observers to the Energy Charter Conference
A broader question, though, is whether the world needs another international energy institution, when it already has the International Energy Agency (IEA), the International Energy Forum (IEF), the International Renewable Energy Agency (IRENA), the World Energy Council, and other institutions. "The fact that all these organizations exist shows there is a need for international energy governance", says Rusnák. "They all have something in their DNA for which they were created, but which also restricts them in various ways. That goes for the ECT as well. Our unique selling point is that we have a treaty that is binding. True, we need modernisation and we need to consolidate our own membership first. But if we are able to do that, we have an asset that is unique." Rusnák notes that even if a country leaves the ECT, its investment protection clauses remain in force for 20 years. "It is a very strong legal agreement."

Rusnák concludes that "whether countries who are hesitant now will join the ECT depends in the end how relevant we can become. We need to create a new momentum. Once you start to move, positive momentum will grow. We need to revitalize and find the enthusiasm and high political support we had in the beginning."
Additional reading on international energy governance issues
About Urban Rusnák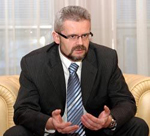 Ambassador Urban Rusnák became Secretary General of the Energy Charter Secretariat in January 2012. Slovak by nationality, Rusnák graduated from the Moscow Institute of Oil and Gas in 1990 with an M.Sc. and received his Ph.D. from the Ankara University Institute of Social Sciences in 1998. He also holds an Honoris Causa doctorate from the Kiev Slavonic University since 2009.
Prior to his appointment with the Energy Charter Secretariat, Rusnák worked at the Ministry of Foreign Affairs of the Slovak Republic and was the Leader of the Project for Slovakia's External Energy Security. Before that, he was Extraordinary and Plenipotentiary Ambassador of the Slovak Republic to Ukraine (2005-2009), Head of the Political Analysis Division at the Slovak Ministry of Foreign Affairs (MFA) (2003-2005), Deputy Head of Mission at the Embassy of the Slovak Republic in Turkey (1994-1998) and Desk Officer for South Caucasus, Central Asia, CIS and South East Europe at the MFA. He also held the position of Executive Director of the International Visegrad Fund in Bratislava (2000-2003) and Director of the Slovak Institute for International Studies (1999-2000).
Additionally, Rusnák was a Lecturer at the Kiev Slavonic University (2005-2009) and at the International Relations Faculty of the Economic University in Bratislava (2000-2003). He was also Chairman of the Editorial Board of the Slovak Institute for International Studies (2000-2003), Editor in Chief for the MFA International Issues Journal (1998-1999) and is the author of several articles on international relations, energy security, development assistance and Caspian oil and gas issues.
Besides his mother tongue, Rusnák speaks English, Russian, Turkish, Ukrainian, French and Hungarian. He is married and has two children.