Milan, Italy-based Next Industries's Tactigon Skin is an innovative wearable motion sensor and gesture controller with artificial intelligence (AI). Massimiliano Bellino (CEO, Next Industries) recently met up with Arthur Lampe (Start-up Investment Manager, Elektor) to talk about his company's technology, his goals for 2020, and more.
Arthur Lampe:
Tell us about Next Industries.
Massimiliano Bellino:
Next Industries is a company based in Milan with competence in IIoT and wearables. Over 5,000 devices have been sold in the past years in many industries, including structural monitoring, robotic control, and sports performance — wherever motion is involved. We want to shake user experience with our products and create devices in an ecological and sustainable way.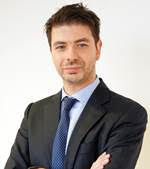 Lampe:
Why did you launch the company?
Bellino:
Because we believe in the future of man-machine interface and in natural user interfaces like voice and gestures. And we believe in the theories of
Jeremy Rifkin
(e.g.,
The End Of Work).
Lampe:
So, your company has expertise in AI and developing gesture control solutions. What problem are you addressing or solving with your products and services? What makes your technology special?
Bellino:
The most common user interfaces — like a mouse or a joystick — are not "natural." We live in 3D world, but we are still using 2D devices. Another point: for applications like a 3D mouse, it is very important to have hand-free devices.
We deliver an ergonomic form factor, so the product is easy to wear. It is hand/fingers free, so users can move in a very natural way. We have an AI algorithm. Thanks to our software layer, we can recognize different gestures (even complex ones) like circles, squares, and scrolls. And, last by not least, our solution is programmable with the Arduino SDK.
Lampe:
What are your primary markets?
Bellino:
We focus on the "maker" market because our device is a platform. This means we are looking for industrial and research partners to help us to customize TACTIGON SKIN for different applications (i.e., to find a vertical solution). For instance, we worked with COMAU (an FCA Group company) on robotics, Nokia/Orange on remote camera control, and Kaiserslautern University on drone control and robotics.
Lampe:
Tell us about your team as well as the importance of your location in Milan.
Bellino:
We are a group of eight people, with different skills and expertise. Some of us have already had entrepreneurial experience. In our team, we have competence in sales and marketing, product development, and research. Our company is also ISO9001-compliant (through DNV), with certification reached in 2016.
We are based in Milan in the Lombardy region, the most important area in Italy for engineering, where you find the Polytechnic University of Milan, fashion design, and mechanical industries. We are open-minded people used to working with partner companies worldwide. But we think that our focus should be on Germany (the most important industrial market in European Union) and the United States (the most important VC market).
Lampe:
What are your goals for 2020?
Bellino:
We have two business lines, data acquisition devices and wearables. As for the former, we sold 5,000 units in the last three years, and in 2020 we want to scale up to €700,000 turnover. As for the latter, Tactigon ONE is our first wearable, and in 2020, we want to reach €150,000 turnover. We will soon launch a new product,
Tactigon Skin
, via a Kickstarter campaign, and our goal is €100,000.
---
Next Industries recently joined the
Elektor Investment Program
, which helps start-ups scale their businesses. Visit the EIP page to learn more about the program and for information about participation.
Interested in electronics-related start-up opporunities? Check out
Elektor's Fast Forward page
for more information.