We've had some surprises over the past several days. We learned about an anti-drone market — and it's big. We heard rumors that Qualcomm might drop its ARM-based server chip business. And the Wi-Fi Alliance announced a standard that could soon give us new options for how we deploy our mesh router systems. Let's review.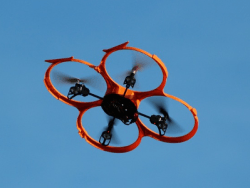 Anti-Drone Market = $1.85 Billion. Huh?
Did you even know there is an anti-drone market? According to a recent report by Grand View Research, the market for counter-UAV measures could reach $1.85 billion by 2024. Apparently, the increased demand for commercial drones coupled with frequent media reports of terror and spying has created a market for counter-UAV solutions. "Detection and disruption of Low, Slow, and Small (LSS) drones is rapidly becoming a critical factor for effective maintenance of security," Grandview reported. "Recreational and nano drones are progressively becoming sophisticated, resulting in the emergence of diverse new threats that need to be optimally dealt with by physical security systems of the future."
Learn More
Qualcomm to Abandon Its ARM-Based Server Business?
Various sources have reported in the past week that Qualcomm might sell or abandon its ARM-based server chip business. According to a Bloomberg
report
, Qualcomm has struggled to penetrate market for processors for data center servers, which Intel dominates. Qualcomm entered the market with its ARM-based Centriq 2400 chip in November 2017. But since then, we've learned little about the company's alternative to Intel's Xeon chips. In January, Qualcomm announced it would begin a $1 billion cost-cutting effort.
Wi-Fi-Certified EasyMesh
If you deploy a mesh router system to connect two or more routers, you must ensure the access points are from the same vendor. But not for long. With the launch of Wi-Fi CERTIFIED EasyMesh, you'll be able to use routers from different companies — so long as they use the new standard. According to the
Wi-Fi Alliance
, EasyMesh enables consumers and providers to implement "interoperable devices across different brands to ensure fast, wide, and reliable Wi-Fi coverage." Router manufacturers have not yet implemented the standard. Elektor Business will follow up on adoption in the coming weeks and months.
M&A News
Automation equipment supplier Teradyne has announced it will acquire Mobile Industrial Robots (MiR), which develops collaborative and safe autonomous mobile robots (AMRs). "My main focus is to get our mobile robots out to the entire world," MiR Founder Niels Jul Jacobsen stated in release. "With Teradyne as the owner, we will have strong backing to ensure MiR's continued growth in the global market." In FPGA-related news, Molex announced this week that it is acquiring BittWare, which designs and manufactures FPGA-based computer PCIe boards/cards. "FPGA-based platforms have become a strategically important driver of machine learning, artificial intelligence, cybersecurity, network acceleration, IoT, and other megatrends. As a Molex subsidiary, now working with Nallatech, I believe we will have the critical mass to bring new resources, better processes, and economies of scale to our valued customers and this rapidly growing industry as a whole," BittWare CEO Jeff Milrod stated in a release.

Elektor, an Approved Raspberry Pi Reseller
Elektor announced this week that it is now an approved Raspberry Pi reseller.
Check out
Elektor's Raspberry Pi-related products.