Made in collaboration with American Kennel Club (AKC) the Smart Collar from Link comes packed with features normally found on a GPS enabled fitness tracker for yuppies in Central Park. The collar features a built-in activity monitor and GPS and has the ability to store information on dog's veterinary log and its ambient body temperature. With all the information, the dog collar makes it easier for owners to treat their pet like, ermm, a child?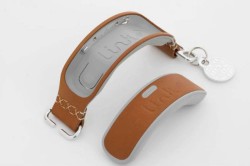 Link say their AKC smart dog collar has a curved design that makes it a right fit for all dog breeds small and large. The collar can track the dogs fitness level and its step count, it can also provide real time alert of dog's temperature to warn you if the dog is getting too hot or cold.
Made from Latigo leather, the smart collar comes with a dedicated Link AKC app that connects the collar to your smartphone. The GPS tracker on the collar enables even Chihuahua owners to make tracking more secure, you can even create a virtual fence for the dog.
Using the Link
smart collar
, you can also create scrapbook of all "precious moments and newly explored places" with the dog and even share them on social media with friends. Plus there's a smartphone controlled LED light, which can help you locate your dog in the dark.
The smart dog collar starts at $199 (pre-order on
website
).