While several communication technologies like LoRa, LTE-M, NarrowBand-IoT (NB-IoT), and Sigfox alphabetical order) are trying to impose themselves as the standard for the Internet of Things (IoT) the market is being flooded with all sorts of low-cost radio modules. The good thing with these modules and technologies is that they are designed for (relatively) long distance operation, something that is difficult to achieve with Wi-Fi or Bluetooth.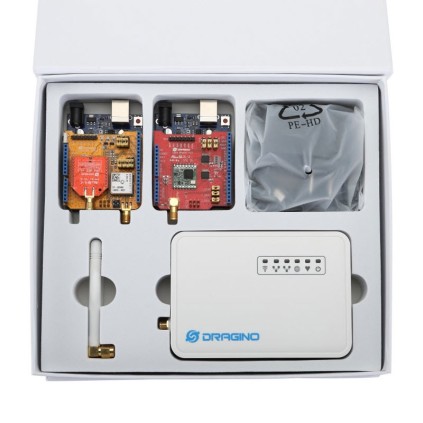 The idea behind IoT is that objects (edge nodes) send data through a gateway to a (cloud) service from where it is distributed to the data consumers. Although this is a nice concept, for many applications it is too complicated, and one or more peer-to-peer (P2P) connections are sufficient in many situations. Of the aforementioned technologies, currently only LoRa supports P2P (LTE-Direct is on its way). Also, LoRa is subscription free, which explains why it is so popular amongst electronics amateurs.
Waterproof wireless Dragino node
Dragino is a manufacturer of IoT hardware, specialized in Linux IoT/VOIP, Arduino Yùn add-on boards and LoRa modules and gateways. One of their latest products is the LSN50 long-range LoRa sensor node, designed for outdoor use. Built in a sturdy waterproof enclosure (IP66) and powered by a 4,000 mAh Li-SOCl
2
battery, the LSN50 targets wireless sensor network applications such as irrigation systems, smart metering, smart cities, smartphone detection, building automation, and so on.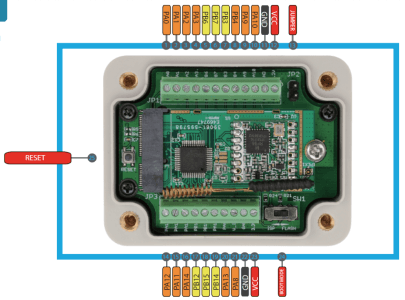 ARM Cortex-M0+
The wireless part of the LSN50 is based on the popular SX1276/SX1278 transceivers from Semtech (LoRaWAN 1.0.2 compliant) supporting multiple bands (433/868/915/920 MHz, to be specified when ordering). The wireless modem is controlled by an ARM Cortex-M0+ 32-bit
STM32L072CZT6
microcontroller by ST. This MCU, clocked at 32 MHz, features a memory protection unit (MPU), 192 KB flash program memory, 20 KB RAM, and a 6 KB EEPROM plus an extensive range of peripherals (I²C, USART, USB, 18 GPIO pins, two 12-bit ADCs and one 12-bit DAC).