Wizama is scoring big. Less than two months after winning Second Prize in
electronica Fast Forward
, the Startup Platform Powered by Elektor, the Brittany, France-based game design company has been named an Innovation Awards honoree at CES 2019.
With its interactive board game console,
Wizama
combines the fun of traditional board games (cards, dice, and pawns) with 21
st
-century digital gameplay. The SquareOne game console features a built-in touchscreen, speakers, and game pieces such pawns, dice, and cards. User can update profiles, choose languages, and record games. According to the team, the game console is intended to "bring board games to life to catch the attention of young players, while maintaining the conviviality and sociability of board games."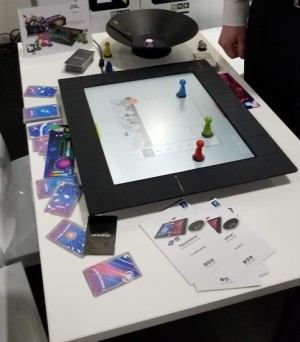 Wizama offers several games, including: Cosmo Squabble (2-on-2 spaceship battle), Atlantis (rebuild a city), Chromacy (game of conquest), Chessaria ("chess meets Zelda"), Krubera (shoot monsters to collect gems), Fist Full of Screw (roll player game in a junkyard), Noara (Tactical MOBA in a fantasy universe), and Oya Stones (a racing game inspired by Game of Goose).
The Wizama team includes Franck Botta (CEO/CTO), Florent Guitton (COO), and Damien Botta (HR Manager). Visit the
electronica Fast Forward page
to learn more about Wizama and other innovative participants. electronica Fast Forward 2018 was organized in collaboration with at the world's most important electronica trade show in Munich. Three intense days of presentations resulted in six finalists: Teiimo, Querom, V-Juice, ValCUN, Volabo, and Wizama. The next day the 'wildcard' was awarded to Wisebatt, raising the number of finalists to seven in total. After the final round of pitches, Teiimo — a start-up company specializing in wearable electronics and smart textiles — was unanimously chosen as the overall winner.
Interested in promoting your startup? Check out the upcoming
productronica Fast Forward
, the startup platform powered by Elektor, which takes place at prodcutronica 2019 in Munich, Germany (November 12-15, 2019).