Aachen, Germany, January 23, 2019 —
Elektor, a leading global provider of electronics engineering information and solutions, is partnering with Elettronica Open Source (EOS) to deliver need-to-know engineering information and solutions to the Italian electronics market. Starting on January 24, 2019, EOS will publish — through its
blog
and
EOS-Book
magazine — three
ElektorLabs magazine
articles each month in the Italian language.
Since 1961, Elektor has played a leading role in the world of electronics, first with
Elektor
magazine and today with
ElektorLabs
. Each edition of
ElektorLabs
magazine is packed with engineer-tested electronics projects, engineering tutorials, product news, and real-world lab tests. Elektor's new partnership with EOS will enable Italian engineers, pro makers, and students to read
ElektorLabs
articles for need-to-know information about a wide range of topics, including embedded systems, MCU-based designs, IoT technology, and analog techniques.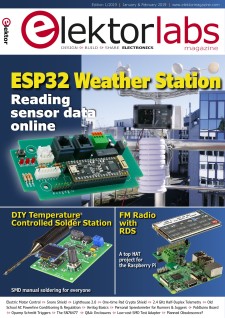 The partnership will bring more than Elektor's sought-after electronics engineering content to the Italian electronics market. Innovators will also have access to the
Elektor Labs online engineering platform
, where they can freely post electronics projects, collaborate with Elektor's in-house engineering team, learn new technologies, and possibly bring their designs to market.
"Elektor has been delivering electronics engineering information and products in the English, German, Dutch, and French markets for decades," said Don Akkermans, owner and CEO of Elektor. "Today, we are happy to partner with EOS to bring some of Elektor's engineering content and solutions to the Italian market, which is well-known for its tradition of electronics innovation and expertise. With access to
ElektorLabs
articles and online Elektor Labs accounts, EOS community members can rapidly begin designing and selling electronics within our fast-growing global community."
"On each issue of EOS-Book, we will publish three articles from the latest issue of Elektor: articles to be chosen by our editorial staff in collaboration with the Elektor editorial team," said EOS's Editor in Chief Maurizio Di Paolo Emilio. "In the Italian articles, we will report all the links through which it will be possible to download all the documentation."
Read a sample edition
of
ElektorLabs
magazine.
###
About Elektor
Elektor is the world's leading source of essential electrical engineering information and electronics solutions for engineers, pro makers, startups and the companies seeking to engage them. In addition to
ElektorLabs
magazine, Elektor publishes
Elektor Industry
magazine, a weekly electronics e-zine, electrical engineering-related books, and the French and Dutch editions of
MagPi
, which is the official magazine of the Raspberry Pi Foundation. More than a publisher, Elektor delivers essential electronics tools and services to innovators around the globe: electronics kits and components at
Elektor.com
, engineering solutions via the Elektor Labs engineering team,
PCB services
, and smart marketing and conversion campaigns for established electronics industry companies and startups alike. Elektor's multichannel advertising and marketing solutions enable electronics brands to effectively, rapidly, and affordably tell their stories, generate leads, and drive sales.