Researchers at
Tohoku University
have succeeded in developing a new type of Magnetic Tunnel Junction (MTJ) structure that achieves long data-retention times while using less energy.
STT-MRAM
The use of non-volatile memory is widespread in all areas of modern electronic systems to store data while using very little energy. Among the different types of nonvolatile memories, STT-MRAM (Spin Transfer Torque MRAM) has been widely researched because it offers fast access, low voltage operation and long data-retention time.
STT-MRAM type memory is however, currently only used for consumer electronics because its magnetic tunnel junction (MTJ) needs to have better thermal stability before it can be used for applications that are a bit more demanding such as automotive environments.
A research team led by Tetsuo Endoh has developed a new, highly reliable MTJ design fabricated using the latest nanotechnology fabrication processes. To improve its thermal stability, it was necessary to increase the interfacial magnetic anisotropy at the CoFeB/MgO interface.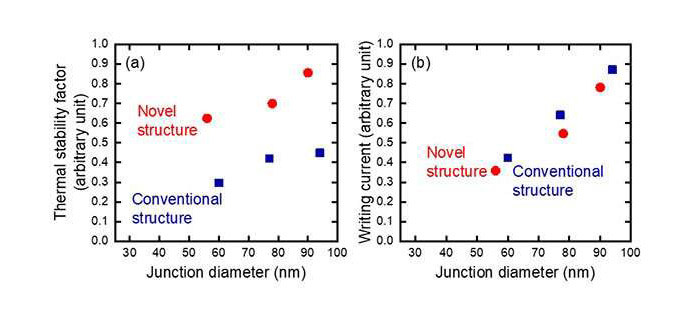 More interfaces hold the key
To increase the interfacial anisotropy, the team developed a structure using twice the number of CoFeB / MgO interfaces. More interfaces improve the thermal stability of the chip but also increase the writing current and degrade the tunnel magnetoresistance ratio of the STT MRAM cells, resulting in a slower read-access time and higher power requirements. The new MTJ design produced by the team is effective at moderating these negative consequences while exhibiting a factor of 1.5 to 2 improvement of its thermal stability.
The team hopes that memories using this new MTJ technology will be suitable for use in harsh environments such as vehicle systems. The STT MRAMs can be fabricated using standard chip manufacturing processes to achieve economies available via mass-production. Results of the research were presented at this year's
Symposia on VLSI Technology
and Circuits which was held earlier this month in Kyoto, Japan.