Many Kickstarter projects should be approached in
caveat emptor
manner as a bare minimum. New Zealand's
IMS Electronics
have a fine track record though (ref. Hybrid Valve Headphone Amplifier) hence their latest Desktop Valve Amplifier deserves the benefit of the doubt.
The unit is built around Raytheon 6418 vacuum tubes (Br. E: valves) for that mellow sound, a Savi Audio SA9227 audio streaming controller (reportedly compatible with all Windows operating systems and Apple OS), and the Texas Instruments PCM5102A audio stereo DAC. Not forgetting Burr Brown OPA2134s for the vinyl preamp and headphone amp. An aluminum casing and Gorilla Glass complete the 140 x 120 x 25 mm package.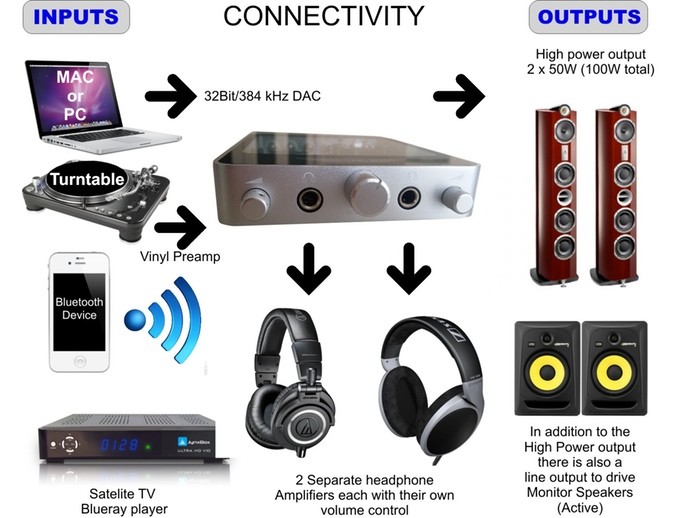 Here's the
quick-specs ticker tape
.
HELLO · 2 x separate headphone amplifier stages using Burr Brown OPA2134 · 100 watt (2 x 50 W) class D amplifier using Texas Instruments TPA3116 with > 90% power efficiency, output short circuit protection · Raytheon 6418 glass envelope tubes (replaceable), mil spec · 2 ounce copper tracks · Low ESR capacitors · 4-point PCB grounding direct to standoffs milled into the case · 32-bit, 384-kHz Savi Audio SA9227 analog input DAC, jitterless output, 16-MHz clock speed in async mode · OPA2134 vinyl preamp with passive RIAA equalization · Bluetooth input · Bluetooth power supply, electrically isolated · Power provided by compact external power pack · Case is CNC machined from single block of aluminum · Dim's 120mm (w), 140mm (l), 25mm (d) · Solid aluminum feet with rubber inserts to prevent microphonics. BYE.
Price orientation: Pledges of NZ$ 699 (£400) will be rewarded with one Desktop Valve Amplifier. Check out the
Kickstarter
page and the video below.