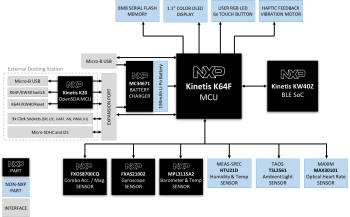 Quantify yourself and the world around you.
Create your own smartwatch, remote sensor tag, or sophisticated home controller with this small, sleek, BLE-enabled, low power
development kit
. Whatever you want it to be, your
Hexiwear prototype
can be put to real-world use from day one: equipped with Bluetooth Low Energy it works with compatible iOS/Android apps and connects to the cloud.
First step
A double tap on any of Hexiwear's buttons will wake up the device and light up the OLED display to show the home screen – that's your base. From there, you can either figure out the possibilities yourself, or save some time by referring to the official comprehensive online User Guide.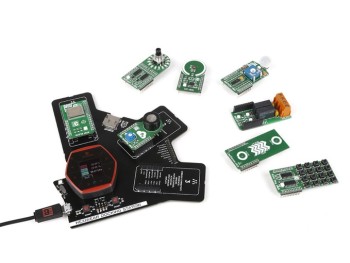 Compact, wearable cool form factor
Style and usability of a high-end consumer device in a dev kit. Core functionality can be enhanced with hundreds of sensors and transceivers through Click boards.
Connectivity, expandability
Hundreds of
additional sensors
, transceivers, encoders, relays, motor drivers, speech recognition modules and more are
available
.
Efficiency
Powered by Kinetis K64 32-bit ARM Cortex-M4 MCU. Features several advanced NXP sensors with low power consumption.
Open Source
Kinetis Design Studio source files and complete hardware layouts and schematics freely available on Github
repository
.
Crowd-funded
Funded on Kickstarter, reaching 250% of intended goal.
Awards
Triple Award winner at ARM TechCOn Innovation challenge 2016 : Best IoT product – Best in Show – Reader's choice. At the 2016 ECN IMPACT Awards, the Hexiwear plaform was declared
best tool for rapid prototyping
recognized for the excellence of its design and engineering.
Full up-to-date documention
The
wiki page
hosts
manuals
and user documentation (schematics, links to data sheets and other relevant material) for both hardware and software,
published by authorised MikroElektronika staff.
Upgrades and improvement and corrections if necessary will be available.
Over the air programming
Several preloaded applications let you use it Hexiwear out of the box – but it will become your own only when you create new firmware. Bring forth your own ideas and discover Hexiwear's full potential!
Over The Air Programming let's you upload a HEX file directly from the smartphone app.
Alternatively, the docking station has an onboard programmer – all you need is a USB cable.
Features
NXP Kinetis K64x MCU (ARM Cortex-M4, 120 MHz, 1M Flash, 256K SRAM)
NXP Kinetis KW4x (ARM Cortex-M0+, Bluetooth Low Energy & 802.15.4 Wireless MCU)
NXP FXOS8700CQ (3D Accelerometer and 3D Magnetometer)
NXP FXAS21002 (3-Axis Digital Gyroscope)
NXP MPL3115A2R1 (Absolute Digital Pressure sensor)
NXP MC34671 (600 mA Single-cell Li-Ion/Li-Polymer Battery Charger)
Light-to-digital converter, Digital humidity and temperature sensor, Heart-rate sensor
1.1" full color OLED display
Haptic feedback engine
190 mAh 2C Li-Po battery
Capacitive touch interface
RGB LED
Previously on this channel...
Earlier this year, at Embedded World 2016, Elektor TV reporter Jan Buiting pointed the camera at Hexiwear, first, from the perspective of
NXP
....
... and
then from
mikroelektronika/Mouser
(starts 1:35):
Have fun with Hexiwear!
ARM® and Cortex® are registred trademarks