The SmartScope is an exceptionally handy and versatile two-channel USB oscilloscope that works with all computer systems, tablets and smartphones that operate on Windows, OS X, iOS, Android and Linux. A handy expansion module is now available that enables the SmartScope to operate wirelessly via WiFi: the WiFi-Bridge. We were among the first to evaluate this module.
The SmartScope has been around a few years now and many users have already experienced how versatile this handy measuring system is. In addition to using it for measuring analogue signals, you can also use it as a logic analyser. It also has a built-in signal generator that can generate analogue as well as digital signals. The accompanying software has been entirely optimised for the current touch screens and is very easy to operate.
Especially when combined with a tablet or smartphone, you will have a compact measuring system that you can easily take with you and is independent of a mains power connection. However, this can be insufficient in a number of situations and there may be the need for a wireless connection, for example when measuring from a distance with the SmartScope in one location and viewing the real-time data at another location. The WiFi-Bridge offers a solution for this. This device has been especially developed by the manufacturer LabNation for use with the SmartScope. An additional advantage of this WiFi-Bridge is that the SmartScope can now also be used with a non-jailbroken iPad/iPhone.
Smart powerbank
The WiFi-Bridge is actually an elaborate powerbank, where a small built-in computer system takes care of controlling the SmartScope and the communications via WiFi to a tablet or smartphone. The device therefore looks a bit like a powerbank and has a built-in Li-ion battery rated at 4400 mAh.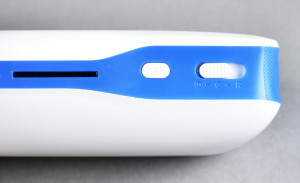 The connections on the small enclosure also give the impression of a powerbank. There is a micro-USB connection for charging the battery, a USB connector for connecting the SmartScope, a pushbutton with four blue LEDs for checking the remaining battery capacity and an on/off slide switch with three positions: off, powerbank and SmartScope. You can therefore use this thing as an ordinary powerbank as well.
There is also an RJ45 connector, so that in the future the WiFi-Bridge can also be connected with a network cable for a more permanent measuring configuration. This feature is not supported at present.