As a major manufacturer and supplier of electronic and electro-mechanical components, Würth Elektronik eiSos are also sponsors of the Fast Forward Start-up-Platform Initiative at
electronica
this year. This initiative aims to promote innovative young companies and provide support and forge partnerships. Incidentally the motto of the Start-up platform fits in well with Würth Elektronik's motto evident at the company's exhibition stand ' WE speed up the future'. This refers to the support that Würth Elektronik eiSos has given to the ABT Schaeffler Audi Sport team right from the introduction of the Formula E class. This theme is appropriate for the design of the test stand: 'Hingucker' or 'eye-catcher' at exhibition stand 404 in Hall B6. Here you can find a genuine Formula-E race car and a racing simulator. There will also be a talk given by the ABT Schaeffler Audi Sport Formula E Team and drivers Daniel Abt and Lucas di Grassi statt will also be on hand (9
th
November 2016 from 18:00).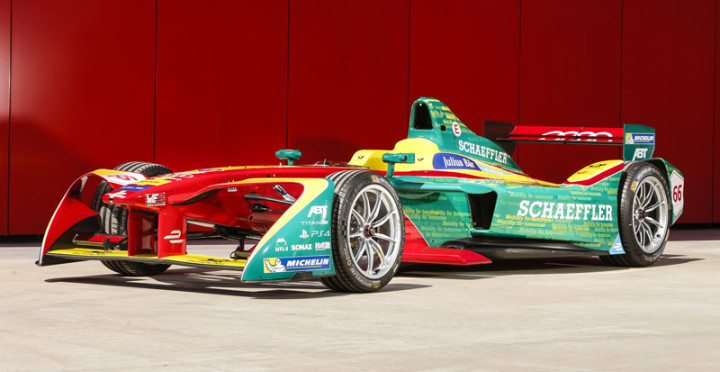 Formula-E race car for the 2016/17 season
At
Würth Elektronik
eiSos the Formula E competition is seen as a test bed for electrically powered vehicles or 'E-mobility'; one of the most interesting growth areas in electronics. In this venture the company intends to increase its profile in the field worldwide and with its commitment to Formula E, build on its reputation as a technology partner and component supplier going forward. Components suitable for electronic power train management and other areas connected to E-mobility are already available from their subsidiary iBE who specialize in this field. Now we can see more extensive developments of the teams and their suppliers in Formula E. Since last season all the vehicles were pretty much standardized now in the 2016/17 season it is becoming more interesting as the batteries and charging technology are released. These areas are identified as key subjects for the future of E-mobility. Würth Elektronik eiSos is closely monitoring developments in this field and working together with IC manufacturers to develop optimal solutions for related applications.