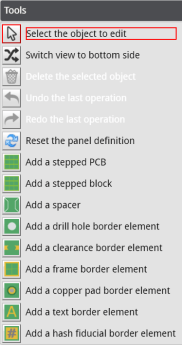 Working in the Panel Editor
Working in the editor is very intuitive. Parameter changes are shown in real time, info boxes provide context sensitive help, and errors are flagged immediately. Selecting an object tool, like placing a spacer or a hole, will highlight in the 'Detailed View' window the areas where the object may be placed, and, after picking a valid area, the object's parameters are shown and can be modified. The very visible link 'Click here for more information' directs to a page with a detailed description of most, if not all the Panel Editor's options and possibilities. Undo, Redo, and Reset buttons allow for hours of experimentation fun without the risk of breaking anything.
A thing to know about tabs: if the separation method is break-routing then tabs are required to create a mechanically stable panel. Because their placement is rather critical, this task is executed by a Eurocircuits engineer after the panel design has been completed by you. For this reason tabs are not shown.
When done with the panel, click 'Apply'. You will return to the Visualizer with automatically adjusted board size and price and you can order it right away. Click 'Save changes' to quit the Visualizer.
Conclusion
The Panel Editor is a powerful and flexible tool that gives users the possibility to create panels the way they want them. Personally, I like the fact that it allows illegal parameter values to be entered and that are flagged instead of disallowing things without explaining why or how to do it right as it makes fooling around easy.
Although the Panel Editor does not (yet) support loading multiple designs on a single panel, it does not disallow it either, and gerber files containing multiple designs are accepted by Eurocircuits as long as the designs respect the panel design rules.
People who do not feel at ease designing a panel, have no time or have special needs can always leave panel design to Eurocircuits simply by selecting the 'Customer Panel by Eurocircuits' option and go through the standard quote 'n' accept procedure.
related items