What is it?
The
STMicroelectronics STM32L4R9I-EVAL
Orca Plus Evaluation Board (
Mouser ref. 511-STM32L4R9I-EVAL
), the (much) bigger brother of the STM32L4R9I Discovery kit (
Mouser ref. 511-STM32L4R9I-DISCO
) is intended as a demonstration and development platform for the manufacturer's Arm-Cortex-M4-based STM32L4R9AI microcontroller. With its dimensions of 173 x 156 mm (6.8 x 6.2") it is a pretty large board, especially compared to the Arduino-sized development boards that are so popular today.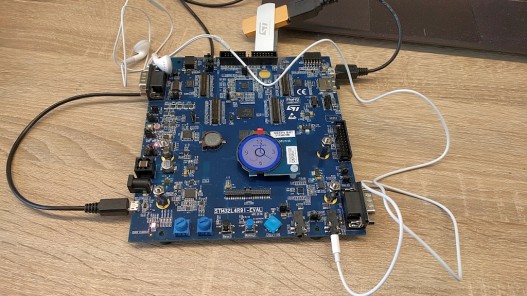 Despite the size of the board and the many components that populate it, it is the unusual 30 mm (1.2") circular smartwatch display just below the centre that attracts the user's attention and curiosity. This display is more or less the star of the board, while the MCU itself is so unobtrusive that it's easily overlooked.
Get a chance to win a FREE STM32L4R91-EVAL Orca Plus Board
By completing this form you enter a prize giveway of a STM32L4R91-EVAL Orca Plus Board.
First impression of the STM32L4R9I-EVAL
When unboxed and powered for the first time (use micro USB connector CN21 'ST-Link/V2-1' in the lower-left corner to connect the board to a Windows PC) the STM32L4R9I-EVAL board (I like Orca Plus better but that seems more like an internal project name) it will show up as a 2-MB removable drive, a serial port and an ST-Link debug device. To make this happen you may have to install the ST-Link driver first. If you do, you can download it from the ST-LINK/V2 page at the ST website.
The microSD card has music on it
Insert the microSD card in its socket and touch the circular display (BTW, do not remove its protective film, as the display will get dirty really quick otherwise). You now have access to three demo programs STemWin, TouchGFX and Embedded Wizard. These names refer to the providers of the graphical libraries used to build these demos (emWin by Segger).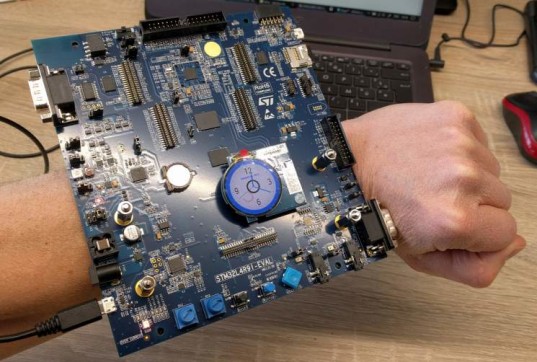 Take your time to explore the demos
My personal favourite is TouchGFX as I like its graphics best, but STemWin is free. Besides showing off the capabilities of these libraries and measuring MCU power consumption these demos do not have much to offer (listen to music on the microSD card, play a game, record sound, system info).