Connect objects with the Genuino 101
Learn how to build a connected device, from hardware to Android app
The Internet of Things (IoT) and Connected Objects have been on everybody's lips for a couple of years now; industry analysts predict billions of connected devices in the near future and the market will be worth tens of billions of dollars. Impressive numbers, big money, wouldn't it be nice to get a share of that?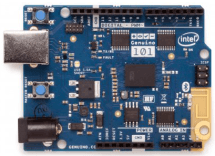 It all starts by connecting objects. The article that you can download from this page shows you how to build a connected device out of low-cost hardware and free tools and takes you all the way to the Android app in the Google Play store.
The free article is sponsored by
Intel
&
Mouser Electronics
and published by
Elektor International Media
.
View live demos of the Intel/Mouser Sensor Shield at electronica 2016 Munich, on the Mouser (Hall A5 Booth 524) or the Elektor (Entry East, Booth EOE 200) stand.
This article is no longer available for download.