Interrupt Request to Microcontroller and Embedded Stuff Fans!
Another info-poster jointly created by Mouser Electronics and Elektor is waiting for you to download, free of charge. And no, the image you see here is not a thumbnail version of the poster!
The idea is simple:
(1) download the poster artwork file (a fat pdf),
(2) have it printed at your local print shop;
(3) roll it up;
(4) tack it on the wall, ceiling or door in your dorm, lab or college classroom!
This time the poster has a richly detailed exploded view of the
STMicroelectronics STM32 Open Development Environment (ODE)
, a prototyping and development environment that facilitates the design of embedded projects by providing easy-to- use hardware and open-source software functional blocks. With its unique combination of a broad range of stackable boards based on leading-edge integrated circuits and modular software — from driver to application examples — the STM32 Open Development Environment enables engineers and makers to easily and quickly transform their bright ideas into optimized projects.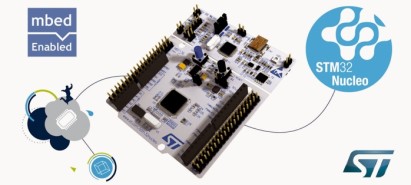 STM32 Nucleo development boards include a 64-pin STM32 microcontroller based on a 32-bit ARM® Cortex®-M core and are available in a variety of memory sizes and peripherals as well as computing power versions. Thanks to the embedded ST-LINK/V2-1 debugger/programmer tool with mini USB port, you'll have all the tools to start developing and debugging code right away.
And no, you're not dreaming: STM32 Nucleo development and expansion boards are budget-friendly and all the software is available for free!
The free STM32 ODE poster powered by Mouser Electronics is available for downloading for a limited time from www.elektor.com/STM32-ODE-poster. Not only will you receive the poster right away, but if you supply the correct answers to a few simple questions you qualify to
win one of 100 Nucleo-L476RG boards
to go along with the poster. The Winners will be announced by the middle of December, please watch Elektor e-zine for the news.
And now, off at gigahertz speed to:
www.elektor.com/STM32-ODE-poster
.